Muscle-Calm - 180 CP by MBi Nutraceuticals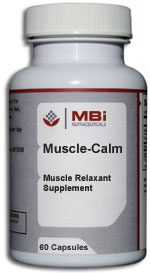 Also Available:
MUSCLE CALM'S BALANCED FORMULA SYNERGIZES AND INCREASES POTENCY
Valerian Root is known for its beneficial effects as an antispasmodic, anodyne and nervine, without dulling the senses, or causing drowsiness. It promotes relaxation and is helpful in relieving pain.
Passiflora is known for its beneficial effects as a sedative, antispasmodic, and nervine. Known to relieve pelvic spasms, nervousness, low back pain and cramping associated menstrual periods, passiflora also aids in relaxation and sleep.
Viburnum, Wild Yam, Wood Betony, Hops, and Scullcap are excellent syn ergistic antispasmodics and combine to relieve pain, muscle tension, and to promote sleep.
ACTIVE INGREDIENTS COMBINE SYNERGISTICALLY
Valerian Root and Passiflora are the most active natural ingredients in Muscle Calm. Combined with the minerals Calcium and Magnesium.complexed with amino acids for maximum absorption.and the remain ing herbs, this balanced formula works to relieve muscle spasms.
DECREASES MUSCLE BUNDLE SPASMS AND DILATES THE BLOOD VESSELS
Muscle Calm provides nutrients that improve circulation to the constricted muscles, reducing pain that can occur when the needs of the muscle for oxygen are not being met because of poor blood circulation.