Bio-EPA - 150 SG by MBi Nutraceuticals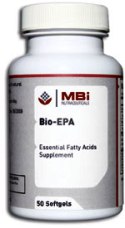 SKU: MBSP146
UPC: 358301216300
Also Available:
Bio-EPA - by Molecular Biologics - MBi Nutraceuticals
This is the kind of fat the body needs. Essential fatty acids (EPA's) are required by the body, but cannot be made by the body. Protect the heart with EPA.
Bio-EPA is a proprietary blend of purified whole body fish oils. These oils are extracted through cold-press technology to preserve freshness and to limit bad taste. Fatty fish oils are an excellent source of the beneficial omega-3 fatty acids EPA and DHA.
BALANCE OF OMEGA-6 TO OMEGA-3 ACIDS IS NECESSARY FOR A HEALTHY BODY
It is estimated that one hundred years ago diets consisted of a 1:1 omega-3 to omega-6 ratio. Today, modern diets often include large amounts of vegetable oils that have high concentrations of omega-6 fatty acids. Omega 6 fatty acids are converted to inflammatory prostaglandin's while Omega 3 acids are anti-inflammatory, make the blood less sticky, and increase circulation. The typical American consumes about 30 times more omega-6 than omega-3 fatty acids in their diet. By adding Bio-EPA to your diet and monitoring your omega-6 intake, you can improve the ratio for a healthier life.
CLINICAL STUDIES HAVE SHOWN THAT OMEGA-3 SUPPLEMENTATION BENEFITS
Clinical studies have shown that omega-3 supplementation benefits include supporting cardiovascular health, boosting immune response, promoting brain function and wellness, improving joint mobility and function, and promoting healthy, beautiful skin.
RESEARCH RELEASED IN CIRCULATION: JOURNAL OF THE AMERICAN HEART ASSOCIATION HAS SHOWN THAT INCREASED CONSUMPTION OF OMEGA-3 FATTY ACIDS ALSO HAS THE FOLLOWING BENEFITS:
Decreased risk of sudden death and arrhythmia, an irregularity in the force or rhythm of the heartbeat
Decreased thrombosis (blood clot)
Decreased triglyceride levels
Decreased growth of atherosclerotic plaque
Improved arterial health
Lower blood pressure
*The American Heart Association recommends consuming omega-3 fatty acids to protect your heart.
Recommendations
As a dietary supplement, take two to six soft gels per day or as directed by your health care professional.
Synergistic Products
Cardio Complex
Cardaurum Drops
Dyscardia Drops
Carditonia Drops
Bio-Cardia Drops
E-400 Complex
Bio-Mag