Bio-Naturalvite - 120 TB by MBi Nutraceuticals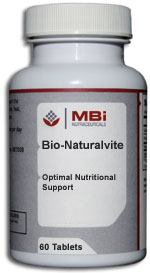 Also Available:
Bio-Naturalvite - 120 TB by Molecular Biologics - MBi Nutraceuticals
Get it all in one product. Bio-Naturalvite is a complete vitamin and mineral supplement. Made with the highest quality raw materials, Bio-Naturalvite is formulated to provide maximum absorption and efficacy.
WE NEED MANY ESSENTIAL VITAMINS AND MINERALS EVERY DAY
Each vitamin and mineral has a specific role in the body, and all the vitamins and minerals are necessary for good health. The goal of a healthy diet is to meet all your nutritional needs first by eating a variety of foods. Vitamin and mineral supplements are meant as a safety net, not as a replacement for a healthy diet.
Since many people don't receive all of the nutrients they need from their diet, whether they can't or don't eat enough, or because they can't or don't eat a variety of healthy foods, multivitamin-mineral supplements can provide the needed vitamin and minerals that their diets often don't. Bio-Naturalvite is a complete vitamin and mineral supplement that meets and exceeds daily minimum requirements.
THERE IS GOOD EVIDENCE THAT TAKING A DAILY MULTIVITAMIN AND MINERAL SUPPLEMENT MAKES SENSE FOR MOST ADULTS
In addition, supplements may be required by certain groups of people who have special dietary concerns. Strict vegetarians may need a supplement containing vitamins and minerals they miss from when no animal products (milk, meats, eggs, cheeses) are eaten. Individuals with specific food allergies may also need a supplement. Women of childbearing age need to take a supplement containing 0.4 mg of folic acid together with a diet rich in foods containing folate to prevent birth defects. Pregnant women may need to take a multivitamin-mineral supplement if nutritional intake is inadequate. Older adults may also need a multivitamin-mineral supplement if a poor diet is consumed or if they are unable to eat certain foods. Individuals recovering from surgery or who have specific medical conditions may require a vitamin and mineral supplement to aid in recovery.
While most people get enough vitamins to avoid the classic deficiency diseases, relatively few get enough of five key vitamins that may be important in preventing several chronic diseases. These include:

Folic acid
Vitamin B6
Vitamin B12
Vitamin D
Vitamin E
Intake of several vitamins and minerals above the minimum daily requirement may prevent heart disease, cancer, osteoporosis, and other chronic diseases.
Recommendations
As a dietary supplement, take two to four tablets daily or as directed by your health care professional.