Thymus Complex - 180 CP by MBi Nutraceuticals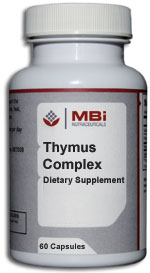 Also Available:
THYMUS COMPLEX PROVIDES A COMPREHENSIVE BLEND OF IMMUNE ENHANCING INGREDIENTS
These ingredients boost the body s natural immune function. It helps the body to maintain good health and to prevent disease. Immune Plus assists in establishing the body s cellular immune system, activating the immune system, and making it more aggressive in defending the body from invading bacteria and viruses.
THYMUS COMPLEX IS COMPOSED OF NEW ZEALAND FREEZE DRIED GLANDULARS
These glandulars are protected by pH sensitive coatings to shield active, biological components from destruction by stomachs gastric juices. These coatings also shield the hormones, enzymes, polypeptides, and other nutrients from destruction by HCL and pepsin in the stomach. Immune Plus is especially important for vegetarians or others lacking animal dietary protein.
THYMUS COMPLEX IS USED FOR GLANDULAR REPAIR AND MAINTENANCE AND FOR HORMONAL IMBALANCES
It also assists in blood formation, storage, circulation, filtration, and repair. It improves the small intestine and the cleansing and detoxification of the body. Immune Plus helps the body to fight stress, stabilize blood sugar patterns, increase fat mobilization, prevent breakdown of cells, and reduce inflammation. It promotes growth and protein synthesis.
THYMUS COMPLEX PROMOTES RESISTANCE
Thymus Complex promotes resistance to disease and cancer, builds resistance in the respiratory tract, maintains a healthy condition of the outer layers of many tissues and organs, and keeps epithelial tissues from drying, shrinking, hardening, and degenerating. It is effective in detoxifying small viruses, bacteria of all kinds, certain fungal diseases, and heavy metal poisonings. The ingredients in Immune Plus are important for the formation of bones and teeth, all connective tissue, strength of the blood vessel walls, cartilage, ligaments, capillaries, intestinal walls, bone marrow, and joints. Immune Plus guards against infection by stimulating the white blood cells. It stimulates metabolism and is used in preventing colds, hay fever, sore teeth and gums, loose teeth, muscle pain, poor healing, tender skin, tender knee joints, infections, viruses, arthritis, rheumatism, cataracts, and eye infections.