Butyrate Complex - 90 CP by Pharmax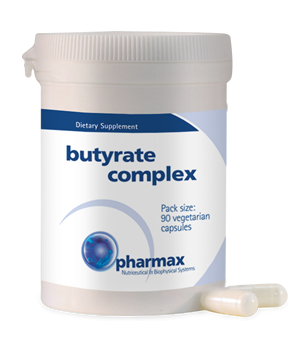 SKU: PHA240
MPN: SC25-90
UPC: 883196200306
Butyrate Complex by Pharmax - 90 capsules
Description
Butyric acid is the primary energy source of the colonic epithelium
Butyric acid regulates cell turnover in the colonic epithelium and is associated with lower mutagenic capacity
Magnesium and calcium forms of butyrate are poorly absorbed in the small intestine but are available for large
intestine absorption
Ingredients Per capsule
Magnesium (as magnesium butyrate) 39mg
Calcium (as calcium butyrate) 51mg
Total butyric acid 650mg
Non-active ingredients
Cellulose, silica, glycerol Capsule: cellulose and water.
Recommended intake
One capsule to be taken three times per day with meals or as professionally directed.
Note: This product has a strong, sour smell which is completely normal.
Keep out of reach of children.
Contra-indications
Do not use during pregnancy or if pregnancy is being planned.
Not suitable for individuals with colitis, gastritis or ulcerative conditions of the stomach or colon.
More Info About Butyrate Complex by Pharmax:
Butyric acid is one of the most important metabolites in the gastro-intestinal tract. Its functions include:
Butyric acid is the major energy source (60%) for the epithelial cells of the colon (colonocytes).
Butyrate regulates colonic cell turnover, stimulates apoptosis and orchestrates differentiation of colonic epithelial cells.
Butyric acid is produced along with propionic and acetic acids by the large intestinal microflora from the fermentation of complex carbohydrates and soluble fiber. The dependency of butyrate production on the normal gut microflora means that when the flora is imbalanced, depression of butyrate production is often the result. The most common cause of this is the use of broad-spectrum antibiotics, which can dramatically decrease the number of butyrate-producing organisms. This can have the effect of starving the colonocyte cells of nutrients and, if this happens, they begin to atrophy and wither. This subsequently results in the tight junction between the colonocytes becoming loose which in turn is a classic example of leaky or permeable gut.
The best ways to increase butyrate production in the gut are to increase consumption of soluble fiber such as fructooligosaccharide (FOS) and increase intake of resistant starches, which are a component of most vegetables.
An alternative is to take butyric acid salts such as calcium and magnesium butyrate. In this form, they largely resist absorption in the small intestine but are available for absorption by colonocytes in the colon.
Pharmax Butyrate Complex is recommended for anyone with symptoms of permeable gut, and also is recommended for people who have taken an extended course of broad-spectrum antibiotics. Additionally, Butyrate Complex would be advisable for individuals receiving colonic irrigation therapy.
Supplement Facts
Serving Size: 1 capsule
Servings Per Container: 90
Amount Per Serving
% Daily Value
Calcium (as calcium-magnesium butyrate)
80mg
8%
Magnesium (as calcium-magnesium butyrate)
40mg
10%
Butyric Acid (as calcium-magnesium butyrate)
620mg
*
*Daily Value Not Established
Other Ingredients: Hypromellose, medium chain triglycerides, titanium dioxide.