Ovarian Complex - 60 CP by MBi Nutraceuticals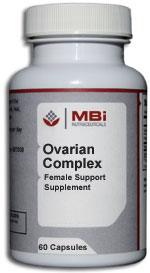 OVARIAN COMPLEX PROMOTES ESTROGEN STABILITY FOR THE HEALTH OF THE FEMALE ORGANS AND FOR BUILDING ENERGY AND STABILITY OF THE FEMALE BODY
It is good for urinary irritation and irregularity and chronic urinary infections. By promoting urination, it assists those that may suffer with toxemia. It also assists with the growth and development of the female breast and in milk formation, normal cyclic growth of the ovarian follicle, restoration of follicular growth, and assists in ovulation. Ovarian Complex aids health and hormone stimulation and enhances sexual desire.
OVARIAN COMPLEX STRENGTHENS THE OVARIES AND SUPPORTS THEIR PROPER FUNCTION
This is not a cure for disease, but an adjunct for nutritional therapy. This special formulation provides the body with nutrients and hormones that the ovaries use, as well as provides the body with a vitamin and mineral complex designed to keep the entire body healthy. Ovarian Complex is a safe and effective treatment for women and does not increase the risk for breast cancer.
Ovarian Complex strengthens the female organs, aids in hot flashes during memopause and relieves symptoms of PMS. A lack of necessary hormones can lead to irregular menstrual cycles, inadequate lactating hormones' output and regularity, obesity, poor growth of the fetus and mother, hypoglycemia, low HGH, poor milk formation, low estrogens and progestogens, and problems with ovulation and the formation of the corpus leiteum. There may also be inadequate control of the thyroid hormone thyroxine for the control of hypoglycemia, the body blood sugar levels, metabolism, and blood pressure. Much of this activity of the thyroid and pituitary takes place in the ovaries.
Perimenopausal and menopausal symptoms often respond to self care through appropriate nutrition and holistic combinations of foods, regular exercise, stress management, and vitamin/mineral supplementation. Estrogen levels at menopause usually drop 40 to 60 percent, and progesterone levels can drop to nearly zero. A variety of factors are responsible for this sharp decline in progesterone. The key lies in maintaining balance not by popping a pill full of synthetic hormones, but through good nutrition, regular exercise, and proper vitamin/mineral supplementation along with additional nutrients found in Ovarian Complex.
Recommendations
As a dietary supplement, take two to four capsules per day following meals or as directed by your health care professional.