Palmetto Complex II - 60 SG by Allergy Research Group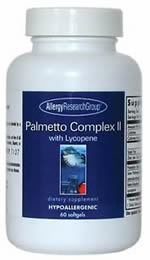 This product has been discontinued
Palmetto Complex II with Lycopene (Hypoallergenic) 60 softgels by Allergy Research Group, Nutricology.
Palmetto Complex II with Lycopene provides the highest quality standardized saw palmetto extract available, together with other active nutrients that complement its activity. In addition to the recommended 320 mg of palmetto extract, this formulation provides 120 mg of beta-sitosterol, the major active principle in pygeum. Whole pygeum extract is prepared with solvents, so it was excluded and only the beta-sitosterol is used. It also includes a generous portion of pumpkin seed oil (from the required species from Eastern Europe), minerals and vitamin B6. No solvents are used in the preparation of this product. Lycopene is an antioxidant carotenoid that has been shown in recent studies to support the prostate gland.* (See also Item no. 74190, DIMŽ Palmetto Prostate Formula).
Suggested Use: As a dietary supplement, 2 softgels in the evening, or as directed by a healthcare practitioner.
Serving Size 2 softgels
Servings per container 30
Amount per serving:
Calories 15
Calories from Fat 15
Total Fat 1.5 g
Zinc (as Zinc Citrate) 10 mg
Pumpkin Seed Oil 1.5 g
Saw Palmetto (Serenoa repens) (berries) Extract (standardized to 85-95% fatty acids) 320 mg
Beta-Sitosterol 120 mg
Lycopene 15 mg
Other ingredients: Gelatin, silicon dioxide.
These nutrients are of the highest quality and purity obtainable, are free of all common allergens (antigens), and do not contain preservatives, diluents, or artificial additives.
Keep in a cool, dry place, tightly capped. # 70730