VitalzymSEB - 300 VCP by World Nutrition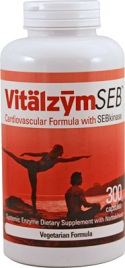 SKU: WOR725
MPN: 70300
UPC: 805034703008
VitalzymSEB
We set out to formulate the most effective systemic enzyme blend specifically for cardiovascular health, and our formulation, which contains Sebkinase, has met that challenge. Specialty Enzymes, 2005
Introduced in 2002, the original Vitalzym has become the leading systemic enzyme formulation available. A common benefit of Vitalzym has been its ability to help maintain cardiovascular well being.
World Nutrition and Specialty Enzymes have taken the cardiovascular benefits of Vitalzym and harnessed them with nattokinase and other heart health nutrients to create an enzyme formulation specifically for cardiovascular wellness.
C-Reactive Proteins
Initial reports from practitioners have shown VitalzymSEB to have a significant effect on the lowering of C-Reactive Protein levels.
This SEBkinase blend contains Nattokinase and other heart healthy enzymes that may cleanse the blood of excess fibrin and reduce vascular inflammation.
VitalzymSEB also contains powerful anti-oxidants such as CoQ10, which have been shown to have significant impact on heart function.
Reduce Vascular Inflammation
Recent studies have shown the correlation between elevated vascular inflammation and heart disease. The enzymes in VitalzymSEB have been shown to reduce the levels of C-Reactive Proteins (inflammation marker).
Reduce Fibrin in the Blood
The fibrinolytic enzymes in VitalzymSEB have been shown to have the ability to digest excess fibrin (protein buildup) in the blood, allowing for improved blood viscosity. Stacked red blood cells (or Rouleau effect) often reflect poor protein digestion. Symptoms can include fatigue, stress on the heart, and poor circulation. The ingredients in VitalzymSEB have been shown, using darkfield microscopy, to significantly reduce stacked red blood cells. Below, you can see the effect of proteolytic enzymes reducing stacked red blood cells.
Supplement Facts:
Serving Size: One (1) Capsule
Servings per Container: 300 Capsules
Amount per Serving: Proprietary Enzyme blend - 500 mg.
Proprietary blend contains:
SEBkinase (a proprietary blend of Nattokinase and Serrapeptase), Bromelain, Papain, Lipase, Protease, Rutin, Amla, Co-Q10, and Magnesium. Other ingredients: Maltodextrin and Vegetable Capsules.
There is no soy in the Nattokinase.