Renewal C Plus - 60 CP by MBi Nutraceuticals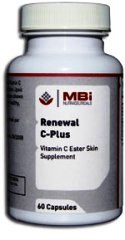 Renewal C-Plus - 60 CP by Molecular Biologics - MBi Nutraceuticals
Renewal C-Plus is a unique formula that works to feed, strengthen, and firm the skin from the inside out, making the skin soft as it reduces lines and wrinkles.
The antioxidant ingredients of vitamin C ester, vitamin E, DMAE, and alpha lipoic acid in Renewal C-Plus have been shown in scientific studies to promote healthy, younger looking skin.
These specific nutrients can make an important difference in the way your skin looks and feels-and even in how well it ages.
Ascorbyl Palmitate is actually a vitamin C ester (vitamin C that has been esterified to a fatty acid). In this case, vitamin C is esterified to the saturated fatty acid, palmitic acid, resulting in a fat-soluble form of vitamin C. Ascorbyl palmitate is gentle on the GI tract and is less acidic and less irritating than other forms of vitamin C.
Vitamin C is important in skin health due to its antioxidant properties as well as the important role of vitamin C in collagen synthesis.
Vitamin E is also an antioxidant, preventing destruction of the lipid part of the cell membranes. It also promotes the healing of damaged skin and reduces aging.
DMAE is a natural surfactant harvested from fish. It is a natural component of all cells. It functions to strengthen, smooth, and elasticize tissues and transport nutrients to the cells.
Alpha Lipoic Acid is another antioxidant. It helps the body use Vitamin C as ascorbic acid in collagen synthesis.
Recommendations
As a dietary supplement, take one capsule two times per day with meals or as directed by your health care professional.