Argentum Elixir - 8 OZ by MBi Nutraceuticals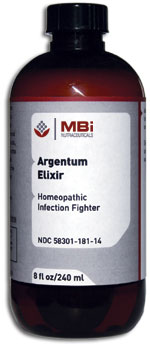 SKU: MBSP120
UPC: 358301181141
Argentum Elixir - 8 OZ by Molecular Biologics - MBi Nutraceuticals
COLLOIDAL SILVER IS A WIDE-SPECTRUM ANTIBIOTIC
Microorganisms depend on specific enzymes to breathe. Colloidal silver is a catalyst that disables these enzymes. This causes the microorganisms in their mutant forms to suffocate upon contact. Since the microorganisms are suffocated rather than poisoned, resistant strains fail to develop.
COLLOIDAL SILVER IS A POWERFUL DISINFECTANT AND HEALING AGENT
The body doesn't develop a tolerance to silver. Colloidal silver is also extremely effective in the topical treatment of burns, abrasions, or any skin irritation/problem. Unlike antibodies, colloidal silver can be taken indefinitely without fear of microorganisms developing a tolerance to it.
SILVER IS ESSENTIAL TO LIFE
The human body should contain .001 parts per million of silver and researchers note that illness occurs more frequently when the level of silver drops below this point.
Recommendations
For minor sore throat-use full strength and gargle as needed. For topical cuts, scratches, and rashes-wash area with warm water and soap, pat dry. Apply Argentum Elixir to the affected area. Let air dry, then cover.