Zinc-Silver Lozenges - 30 Lozenges by MBi Nutraceuticals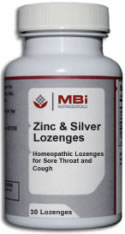 SKU: MBSP490
UPC: 158301188207
Zinc-Silver Lozenges - 30 LZ by Molecular Biologics - MBi Nutraceuticals
Use the power of natural zinc and silver to fight a sore throat. Zinc Silver Lozenges kill the germs that cause viruses and infections. Don't be without this powerful natural remedy when the next cold season strikes.
Supplement Facts
Zincum 3x
Caprum 4x
Argentum (silver) 5x
Menthol 3x
Belladona 12x
Rhus Tox 12x
Cinnabaris 12x
Spongia 6x
Sticta 6x
Drosera 6x
In a base of fructose powder, maltodextrin, vegetable lubricants, ascorbic acid 100mg., 166%, magnesium sterate, silica, orange flavor, citric acid, sodium saccharin, yellow #5 and red #40.