Hematocrit Complex - 60 CP by MBi Nutraceuticals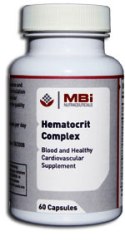 Hematocrit Complex - 60 CP by Molecular Biologics - MBi Nutraceuticals
Cleanse and improve your blood with Hematocrit Complex. This special formulation of vitamins, minerals, and glandular tissues is designed to improve the quality of the blood.

Each of our blood cells can live only about four months so the body must continuously replace worn-out cells. Blood cells are formed in the bone marrow. Hematocrit Complex provides the body with the nutrients needed to make strong, healthy blood. This nutrition is critical for good health.
NUTRITIONAL FUNCTIONS
Vitamin C has been shown to prevent heart disease. Vitamin C also plays a role in detoxifying the body and fighting disease.
Vitamin B12 aids in red blood cell formation and increases overall energy level.
Iron combines with protein and copper to make hemoglobin, thus building up the quality of the blood.
Niacin is important in circulation. Niacin is used as nicotinic acid to lower LDL (bad) cholesterol. Niacin is effective in lowering the risk of developing cardiovascular disease. As niacinamide, niacin is used to treat heart disease.
Glandular supplementation provides supplementation like no other combinations that help in tonifying specific organ tissues by providing the specific glandular nutrient combinations and the necessary enzymes for proper cellular health found only in glandular's.

Supplement Facts
Vitamin C 120 mg
Folic Acid 400 mcg
Vitamin B12 100 mcg
Pyridoxine HCl 5 mg
Niacin 30 mg
Iron (Aspartate) 28 mg
Copper (Aspartate) 2 mg
Liver Tissue 500 mg
Kidney Tissue 50 mg
Spleen Tissue 50 mg
Recommendations
As a dietary supplement, two to six capsules per day following meals or as directed by your health care professional.