Cardio Complex - 60 CP by MBi Nutraceuticals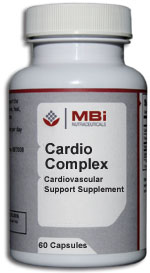 SKU: MBGL150
UPC: 358301389170
CARDIO COMPLEX STRENGTHENS THE CARDIOVASCULAR SYSTEM AND IMPROVES BLOOD FLOW
Vitamin E is an antioxidant. It helps improve blood flow and strengthens capillary walls. Vitamin E leaves the red blood cells more fully supplied with pure oxygen to be carried to the heart and other organs. Vitamin E also causes dilation of the blood vessels, permitting a fuller flow of blood to the heart. These factors all contribute to the ability of Vitamin E to prevent heart attacks and strokes.
CARDIO COMPLEX CONTROLS CHOLESTEROL AND TRIGLYCERIDES
Chromium must be converted to a biologically active form for it to be usable by the body. The GTF Chromium used in Cardio Complex is made by our patented process. It contains chromium and nicotinic acid (niacin). Because this type of chromium increases the effectiveness of insulin, it is able to regulate blood sugar levels and influence metabolism. GTF Chromium has also been shown to reduce cholesterol and triglyceride levels, making blood healthier.
CARDIO COMPLEX CONTAINS GLANDULARS
Glandular supplementation provides supplementation like no other combinations that help in tonifying specific organ tissues by providing the specific glandular nutrient combinations and the necessary enzymes for proper cellular health found only in glandulars.
Recommendations
As a dietary supplement, take 2 capsules daily or as directed by your health care professional.