Zinc Citrate - 50 MG - 60 VCP by Allergy Research Group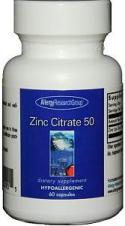 List Price:
$8.60
Sale Price:
$7.50
You Save:
()

SKU: ALL930
MPN: 70290
UPC: 713947702905
Zinc Citrate 50 (Hypoallergenic) 60 Vege capsules by Allergy Research Group, Nutricology.
This form of zinc is well-tolerated and well-absorbed. Zinc is a trace mineral that is important for healthy functioning of all organs. It is essential for more than 30 enzyme reactions that feed into a variety of homeostatic functions. Zinc is located at the active site of superoxide dismutase (SOD), a major protective antioxidant enzyme, and zinc-dependent enzymes are involved in growth, immunity, and tissue renewal. Zinc is especially important for healthy functioning of the prostate and the male reproductive system.*
Suggested use: As a dietary supplement, 1 capsule one to three times daily between meals, or as directed by a healthcare practitioner.
Contraindicated with use of aluminum containing drugs.
Serving Size 1 capsule
Servings per container 60
Amount per serving:
Zinc (as Zinc Citrate) 50 mg
Other ingredients: Gelatin, cellulose, magnesium stearate.
This nutrient is of the highest quality and purity obtainable, free of all common allergens (antigens), and does not contain preservatives, diluents, or artificial additives.
Keep in a cool, dry place, tightly capped. # 70290
Supplement Facts
Serving Size: 1 capsule
Servings Per Container: 60
Amount Per Serving
% Daily Value
Zinc (as Zinc Citrate)
50 mg
*Daily Value Not Established
Other Ingredients: Hydroxypropyl methylcellulose, microcrystalline cellulose, silicon dioxide, magnesium stearate..
This form of zinc is well-tolerated and well-absorbed. Zinc is a trace mineral that is involved in more than 30 enzyme reactions in the body, and is an essential metal cofactor for one kind of superoxide dismutase (SOD), a major class of antioxidant enzymes.*