Super Lift Hydrating Protein Masque - 4 OZ by MBi Nutraceuticals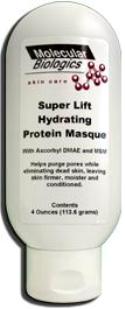 This product is temporarily unavailable.
We'll have more soon.
Super Lift Hydrating Protein Masque - 4 OZ by Molecular Biologics - MBi Nutraceuticals
Super Lift Hydrating Protein Masque creates noticeably younger looking skin by temporarily lifting the skin, diminishing the appearance of fine lines and wrinkles. It gives your complexion a fresh, glowing look by purging pores and eliminating dead skin cells, leaving skin firmer, moist, and conditioned. With a unique mix of wholesome ingredients, this proprietary formula also plumps skin cells, making them fresh and young looking. Super Lift Hydrating Protein Masque revives dull, tired skin by improving the appearance of the skin s tone and texture for a smoother, tighter, all-around healthier feel. After application, the Hydrating Protein Masque will tighten slightly as it immediately goes to work to temporarily lift, firm, and tone the skin and reduce the appearance of fine lines and wrinkles.
Egg Albumin. Added protein that tightens, lifts, and cleanses skin.
Aloe Vera. This plant promotes healing and increases circulation to the skin. It has been used for centuries to treat various types of skin damage including burns. It also smoothes and softens the skin.
MSM (methylsulfonylmethane). A natural component of all cells. It helps the skin to retain moisture, reducing fine lines. MSM also scavenges free-radical oxygen to prevent damage to healthy skin.
Ascorbyl DMAE. This compound is a natural; component of cells. It functions to strengthen, smooth, and elasticize tissues and transport nutrients to the cells. It also helps the skin retain moisture, further reducing fine lines.
Co-Q10. An antioxidant; it works to limit and correct free-radical damage.
Alpha-Lipoic Acid. Is an antioxidant. It helps the body use Vitamin C as ascorbic acid in collagen synthesis. Collagen keeps the skin tight and supple.
Zinc. Is essential to growth and development and wound and burn healing. Zinc can help with healing, reduce infection, and treat and prevent acne.
Copper. Aids in collagen formation. Recent Studies show that copper may bolster the immune system.
B Vitamin Complex. A proprietary blend of B vitamins that work with the other active ingredients to reduce aging, promote healthy skin, improve healing, reduce wrinkles, increase elasticity, and rejuvenate the skin.