Collagen Complex - 60 TB by MBi Nutraceuticals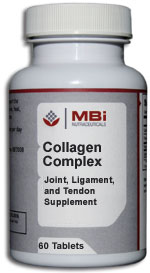 SKU: MBSP210
UPC: 358301273174
COLLAGEN COMPLEX HAS MANY ADVANTAGEOUS INGREDIENTS TO HELP KEEP THE JOINTS AND BONES HEALTHY AND STRONG
Vitamin A helps support bone growth along with aiding in repairing body tissues. Vitamin C also aids in repairing and healing tissues and is vital for collagen synthesis. Vitamin E functions as an antioxidant and protects cells from damage, which can prolong cell life and slow the aging process. Copper is needed for proper bone support and growth. It aids in bone formation and maintenance, collagen synthesis, and helps produce energy. Manganese is a trace element that is an important part of Manganese Superoxide Dismutase, that battle the damaging free radicals that cause swelling, which result in pain. Along with reducing inflammation, manganese is also used to prevent osteoporosis in postmenopausal women, help in the prevention of atherosclerosis, hearing loss, and rheumatoid arthritis.
GLUCOSAMINE IS A NATURAL NUTRIENT THAT IS SAFE AND EFFECTIVE IN TREATING PAIN ASSOCIATED WITH ARTHRITIS
It works to ease stiffness and support joint health. It is extremely effective to not only ease arthritis related joint pain, but also to provide long lasting relief. Glucosamine has been shown in clinical studies to rebuild cartilage1, slow the progression of joint deterioration, and possibly even modify the disease itself with almost no side effects.
CHONDROITIN SULFATE IS A PROTEIN THAT IS EFFECTIVE IN REDUCING SORENESS AND INFLAMMATION, WHILE AIDING IN COLLAGEN SYNTHESIS
Chondroitin Sulfate is recognized around the world as a beneficial treatment for the pain of arthritis, aging, and stiff joints. MSM is another highly effective treatment for inflammation and easing arthritis pain.
Recommendations
As a dietary supplement, take two to six tablets per day following meals or as directed by your health care professional.
Supplement Facts
Serving Size: 2 capsules
Servings Per Container: 30
Amount Per Serving
% Daily Value
Calories
8
Protein
0.5g
Carbohydrates
0.5g
Vitamin A
2,000IU
40%
Vitamin C
100IU
167%
Vitamin E
30mg
100%
Calcium
60mg
6%
Magnesium
30mg
8%
Zinc
5mg
33%
Selenium
200mcg
285%
Copper
3mg
150%
Manganese
50mg
2500%
Collagen Tissue
300mg
**
Glucosamine Sulfate
300mg
**
Chondroitin Sulfate
300mg
**
MSM
300mg
**
Citrus Bioflavonoids
100mg
**
Hesperidin
100mg
**
Calf Bone Tissue +
50mg
**
Rutin
500mg
**
*Daily Value Not Established
Other Ingredients: Vegetable lubricants, magnesium stearate,silica.
Promote healthy skin and joints with natural collagen. Collagen Complex is specially formulated with Glucosamine, Chondroitin Sulfate, and other skin and joint specific vitamins and minerals. Also helps athletic injuries heal faster!

Improves joint flexibility and mobility while strengthening skin, joints, ligaments, and tendons. Collagen Complex is designed to keep joints moving smoothly.