Liver 600 - 60 CP by MBi Nutraceuticals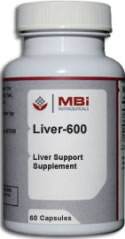 SKU: MBGL190
UPC: 158301234171
Liver 600 - 60 CP by Molecular Biologics - MBi Nutraceuticals
Strengthen and support the liver with 600 mg of liver tissue.
THE LIVER ACCOUNTS FOR 12% OF THE TOTAL METABOLISM OF THE BODY
The liver is especially dependent upon an adequate supply of fresh, oxygenated blood. The blood supply adapts itself to the requirements of the liver, if it is lacking oxygen due to circulatory disturbances, the capacity of the liver cells become impaired and fatty degenerations develop in the liver lobules.
Glandular tissues are rich sources of nutrients, enzymes, hormones, and other factors that support specific gland-related metabolism and physiological function. Glandular supplementation provides supplementation like no other combinations that help in tonifying specific organ tissues by providing the specific glandular nutrient combinations and the necessary enzymes for proper cellular health found only in glandular's.
THE IMPORTANCE OF THE LIVER
The liver is the first organ to receive blood from the intestines and removes, synthesizes and detoxifies the final products of digestion a few hours after each meal. Incomplete detoxification leads to a backlog of waste products which can poison the system.
Liver cells are endowed with multiple factors to aid anabolism, catabolism, and detoxification. It aids in synthesis and storage of glycogen, conversion of other sugars to glucose, release of glucose for the maintenance of adequate sugar levels in the bloodstream and the synthesis and important biochemical's from sugars and other sources. The liver burns glucose for quick energy important for stress.
The liver is imperative for fat metabolism by synthesizing fatty acids from amino acids and sugar, synthesis of lipoproteins, cholesterol, and phospholipids, and for oxidation of fat for energy creating large quantities of acetyl coenzyme A and acetocetic acid used for energy.
VITAMIN E IS AN ANTIOXIDANT
It helps prevent blood clots; strengthens capillary walls; stabilizes cell membranes; prevents hormones, lipids, and proteins from being oxidized; and promotes proper functioning of linoleic acid and saturated fatty acids. Vitamin E is known to reduce the risk of heart attack and stroke. Vitamin E protects cells from damage, which can prolong cell life and slow the aging process.
Supplement Facts
Vitamin E 5 IU
Liver Tissue 600 mg