Ultra EPA/DHA - 90 CP by Pharmax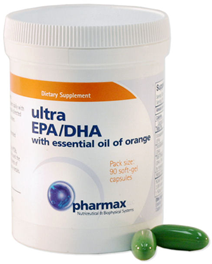 SKU: PHA855
MPN: FA29-90
UPC: 883196200115
Ultra EPA/DHA 90 caps is Pharmax's most concentrated fish oil product provided in soft-gel capsules. It provides a means of administering physiologically meaningful quantities of EPA and DHA for those people who prefer to take capsules rather than liquid fish oil products.
Ingredients

Typically per capsule
Eicosapentaenoic acid (EPA) 395 mg
Docosahexaenoic acid (DHA) 265 mg
Total omega-3 720 mg
(provided as pure fish oil)
Natural mixed tocopherols 6 mg
Dosage: 1-5 capsules taken daily with meals or as professionally directed.
Contra-indications:
None known if recommended intake is followed.
Non-active ingredients:
Essential oil of orange.
Capsule: gelatin, glycerol, titanium dioxide, copper chlorophyll.
Features & Benefits
Highly concentrated fish oil flavored with essential oil of orange
Fish oil is in natural triglyceride from (not ethyl ester) and delivers 395mg EPA and 265mg DHA per capsule.
Physiologically meaningful amounts of EPA and DHA provided by as little as two capsules.
Little or no fishy reflux.
Fish oil derived EPA/DHA now found to be profoundly beneficial in:
Cardiovascular disease
Inflammation disorders e.g. rheumatoid arthritis, fibromyalgia etc.
Mental disorders such as Alzheimer's and depressive disorders.
Brain and neural tissue development especially in neonates and children.
Supplement Facts
Serving Size: 1 capsule
Servings Per Container: 90
Amount Per Serving
% Daily Value
Calories
15
Calories from Fat
10
Total Fat
1g
2%
Cholesterol
10mg
3%
Eicosapentaenoic Acid (EPA)
395mg
+
Docosahexaenoic Acid (DHA)
265mg
+
Total Omega-3 (EPA, DHA & Total omega-3 provided as sardine & anchovy oil)
750mg
+
*Daily Value Not Established
Other Ingredients: Essential oil of orange, natural mixed tocopherols. Capsule: Fishe Gelatin, glycerol
Ultra EPA/DHA with essential oil of orange.