Phosphatidyl Serine - 60 CP by Progressive Laboratories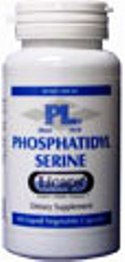 SKU: PRO825
MPN: 896
UPC: 3-51821-00896-7
Phosphatidyl Serine information Phosphatidyl Serine PDF
Phosphatidyl Serine 60 soft gels by Progressive labs.
Ingredients:
100 mg Phosphatidylserine
45 mg. Phosphatidylcholine
10 mg Phosphatidylethanolamine
10 mg Phosphatidylinositol
113 mg Linoleic acid
11 mg Linolenic acid
12 mg Oleic acid
1 mg Stearic acid
24 mg Palmitic acid
49 mg Capric acid
130 mg Caprylic acid
8 mg Phosphorus
3 mg Potassium
Suggested Use:
1 softgel daily, or more, as directd by a doctor, taken with a meal.
Supplement Facts
Serving Size: 1 liquid vegetable capsule
Servings Per Container:
Amount Per Serving
% Daily Value
Phosphorus
3mg
Phosphatidylserine
100mg
*
Phosphatidylcholine
50mg
*
Phosphatidylethanolamine
15mg
*
Phosphatidylinositol
10mg
*
Linoleic Acid
90mg
*
Lenolenic Acid
12mg
*
Oleic Acid
20mg
*
Stearic Acid
3mg
*
Palmitic Acid
15mg
*
Capric Acid
50mg
*
Caprylic Acid
135mg
*
*Daily Value Not Established
Other Ingredients: glycerine, soybean oil, water.
The phospholipids, particularly phosphatidylserine, support cognitive functions such as memory and learning, cell membrane flexibility and normal cortisol levels.