Paramicrocidin - 250 MG - 120 CP by Allergy Research Group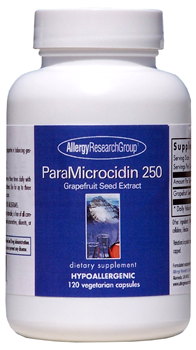 List Price:
$37.07
Sale Price:
$32.45
You Save:
()

SKU: ALL670
MPN: 71530
UPC: 713947715301
ParaMicrocidin 250 Grapefruit Seed Extract (Hypoallergenic) 120 capsules Allergy Research Group, Nutricology.
An extract of grapefruit seeds, known to be supportive in balancing gastrointestinal microbiology. Used commonly for bacterial, parasites and fungal problems*
Suggested Use: As a dietary supplement, 1 or 2 capsules two or three times daily with meals, or as directed by a healthcare practitioner. Use for up to three months, reduce intake if stomach irritation occurs.
Do not exceed daily intake of 1500 milligrams.
Serving Size 1 capsule
Servings per container 120
Amount per serving:
Grapefruit Seed Extract 250 mg
Other ingredients: Gelatin, cellulose, silicon dioxide, magnesium stearate.
This nutrient is of the highest quality and purity obtainable, is free of all common allergens (antigens), and does not contain preservatives, diluents, or artificial additives.
Variations in product color may occur. Keep in a cool, dry place, tightly capped. # 71530