Gerovital GH3 - 60 CPT by Nutraceutics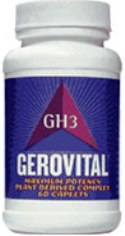 List Price:
$28.00
Sale Price:
$24.50
You Save:
()
Save even more with Volume Discounting:
| | | | | |
| --- | --- | --- | --- | --- |
| Qty | 1 - 2 | 3 - 5 | 6 - 11 | 12+ |
| Price | $24.50 | $23.80 | $23.38 | $22.96 |

SKU: NUTRA30
MPN: 2001
UPC: 602359220018
Gerovital GH3

Based on the 60-year old formula developed by the renowned anti-aging physician, Dr. Ana Aslan, Nutraceutics has taken the key ingredients found in Dr. Aslan's anti-aging formula and created Gerovital GH3™. Formulated to combat the symptoms associated with life's natural progression most commonly called aging, Gerovital GH3 has become your trusted ally in the fight against growing old.

Dr. Aslan believed everyone above the age of 40 should take an anti-aging therapy. Science has made amazing progress in the years since Marilyn Monroe and Aristotle Onassis were patients of Dr. Aslan. Science has changed, but one premise has remained the same: everyone wants to discover the fountain of youth. You can grow old gracefully or just grow old...the choice is yours.

The synergistically blended ingredients in Gerovital GH3™ may help to:

• Reduce the risk of heart disease by lowering homocysteine levels • Invigorate and fortify in times of fatigue and debility • Improve mental capacity and memory function, as evidenced in the German Commission E Monograph • Uplift and regulate mood

More than 40 years of testing proves Gerovital GH3? to be the most trusted and most effective anti-aging therapy available. Used on a regular basis, Gerovital GH3 may...

Enhance memory. Re-invigorate sexual function. Improve mental clarity. Increase alertness. Help regulate moods. Fight fatigue, anxiety and insomnia. Reduce risk of heart disease. Reduce risk of stroke. Reduce free radicals which cause cancer. Reduce the effects of stress and so much more. One of the first anti-aging therapies, Gerovital GH3 reduces free radical activity preventing damage to DNA and cellular membranes.The enhanced cellular bioenergetics optimizes ATP, the body's universal energy molecule. It also normalizes brain neurotransmitting balance to help normalize chronobiological rhythms.GH3 contains DMAE and Vitamin H which are metabolites of the Romanian youth drug Procaine.

Key Ingredients:

Gerovital GH3 contains the best and most tested anti-aging ingredients and cognitive enhancers specially engineered to eliminate the symptoms of advancing years.

DMAE "The Scavenger"

The most bioavailable form of choline, the precursor to Acetylcholine.

Acetylcholine is essential to key brain functions such as memory, learning and alertness. Free radical scavenger.

GINGKO BILOBA "The Neuroprotective Plant" Prescribed to counter senility, impotence and cardiovascular disease. Promotes virility. Well known for antioxidant and neuroprotective properties, its positive effects on memory and disease associated with free radical generation are legendary. Gingko Biloba is the oldest known living tree species.

PABA "Factor H Vitamin" An important B complex factor. Key growth factor of B vitamin complex. Has the potential to reduce the risk of abnormal blood clot formation because it is a potent inhibitor of the formation of Thrombin induced Thromboxane.

B VITAMINS Essential cofactors in the body's defense against elevated homocysteine levels which have been linked to heart disease, arteriosclerosis and stroke. Helps improve mood, memory, sharpens attention and reactions. Replenishes the essential B vitamins that are eaten away by the stress of everyday life.

GINSENG "The Anti Stress Herb" The most widely recognized plant in traditional medicine. Combination of Ginseng and Gingko has been used to treat cognitive impairment in the elderly. Helps body adapt to stressors by heightening productivity of the adrenals. Readily affects fatigue, anxiety and insomnia. Promotes better health and well being.

GOTU KOLA "The Rejuvenator" Long revered in traditional eastern herbal medicine for its reputed longevity properties. Promotes growth of skin, hair and nails. Nourishes the nervous system, especially the brain. Is said to improve memory, enhance vitality and mental clarity.

SHIZANDRA "The Adaptogen" Increases mental acuity. Calming effect allows for better energy/task focus. May normalize sleep patterns. Gerovital GH3 is the oldest, most tested and most trusted anti-aging therapy available.

Gerovital GH3 Supplement Facts:

Serving Size: 2 Caplets Servings Per Container: 30

Amount Per Serving:

Calories: 0 Vitamin B6: 5 mg 250% Folic Acid: 400 mcg 100% Vitamin B12: 20 mcg 333% Pantothenic Acid: 50 mg 500% p-Aminobenzoic Acid: 400 mg * 2-Dimethylaminoethanol Bitartrate: 200 mg * Gingko Biloba (Leaf) Extract: 50 mg * Adaptogen Complex Proprietary Blend: 300 mg -Proteusterone -Schizandra (Berry) -Panex Ginseng (Root) -Gotu Kola (Leaves)

Other ingredients: Dextro Calcium Pantothenate and Pyridoxine hydrochloride.

Directions: Take two caplets daily, or as directed by your health care professional.

Supplement Facts
Serving Size: 2 caplets
Servings Per Container: 30
Amount Per Serving
% Daily Value
Calories
0
Vitamin B6 (as pyridoxine hydrochloride)
5mg
250%
Folic Acid
400 mcg
100%
Vitamin B12 (as cyanocobalamin)
20mcg
333%
Pantothenic acid (as d-calcium pantothenate)
50mg
500%
Gerovital **blend
950 mg
p-Aminobenzoic acid
+
2-Dimethylaminoethanol bitartrate
+
Proteusterone (wild yam extract)
+
Schizandra (berry)
+
Panex ginseng (root)
+
Gotu kola (leaves)
+
Ginkgo biloba (leaf) extract
+
*Daily Value Not Established
Other Ingredients: Cellulose, dicalcium phosphate, croscarmellose sodium, stearic acid, magnesium stearate, silicon dioxide, pharmaceutical glaze.