L-Glutathione Reduced - 50 GM by Montiff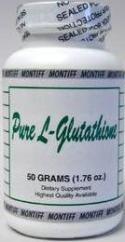 List Price:
$120.00
Sale Price:
$105.00
You Save:
()

SKU: MON553
MPN: 10510
UPC: 683268105108
Pure Glutathione Reduced Pwd 50 grams by Montiff
Suggest use: Take 1/4th to ths of a level teaspoon per day or as directed by a health care professional.
Supplement Facts
Serving Size: 1/4 tsp(approx. 1gram)
Servings Per Container:
Amount Per Serving
% Daily Value
L-Glutathione Reduced
50 gm
*
*Daily Value Not Established
RECOMMENDED TO ENHANCE STRUCTURE & FUNCTION RELATING TO NUTRITIONAL NEEDS AND DEFICIENCIES PERTAINING TO:
· Defending the body against free radical damage
· Detoxifying toxic compounds in the liver and lungs
· Enhancing immune system and having anticarcinogenic properties
· Helping to protect against atherosclerosis
· Glutathione deficiencies, which can lead to serious health problems
· Aging, which are associated with low Glutathione levels.
· Protection from virus infection, cornea injuries, metal intoxication, etc.