Caprylate Complex - 90 CP by Pharmax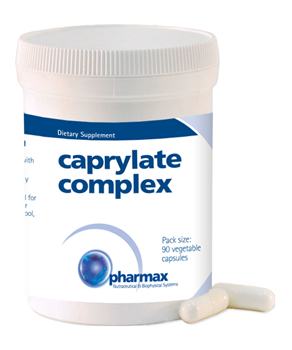 Caprylate Complex by Pharamax
Caprylic acid inhibits growth of Candida albicans but does not affect normal lactic microflora.
Calcium and magnesium salts of caprylic acid deliver all three nutrients past the upper small intestine Excellent anti-fungal activity against colonic Candida albicans.
Ingredients Per capsule
Magnesium (as freeze dried magnesium caprylate) 20mg
Calcium (as freeze dried calcium caprylate) 45mg
Total caprylic acid 500mg
Non-active ingredients
Cellulose, silica. Capsule: cellulose & water.
Suggested dosage
One capsule to be taken three times per day with meals or as professionally directed.
More Info About "Caprylate Complex by Pharmax"
Keep out of reach of children. Do not use during pregnancy or if pregnancy is being planned. Not suitable for individuals with colitis, gastritis or ulcerative conditions of the stomach or colon.
Caprylic acid is a short chain fatty acid, which has anti-fungal activity against Candida albicans but does not have negative effects on the normal gut lactic microflora.
Pharmax has synthesized and freeze-dried magnesium and calcium caprylates as preferred forms. Both are insoluble and hence are not easily absorbed in the small intestine. This means that Caprylate Complex beneficially delivers caprylic acid as well as magnesium and calcium to the distal small intestine and large intestine.