Bio-Osteo Complex - 90 TB by MBi Nutraceuticals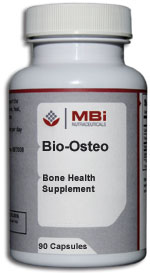 CALCIUM AND MAGNESIUM ARE USED TO PREVENT OSTEOPOROSIS AS THEY PREVENT THE LOSS OF BONE MASS AND REPAIR DAMAGED BONES
It is also used to reduce hypertension and premenstrual syndrome (PMS) symptoms. Calcium and magnesium are important in pregnancy to reduce pregnancy-induced hypertension and to prevent preeclampsia. Calcium is used to treat the symptoms of menopause including headaches, irritability, insomnia, and depression. Calcium is important in maintaining a healthy mouth as it can strengthen loose teeth, and improve gingivitis and periodontal disease. Finally, calcium is used to reduce heart irregularity and to lower cholesterol.
CALCIUM IS AN ESSENTIAL MINERAL THAT IS MOST ABUNDANT IN BONES AND TEETH
The bones need calcium to stay strong, preserve bone mass and reduce the risk of fracture. Scientific research indicates that calcium deficiency is a major cause of osteoporosis.
BIO-OSTEO CONTAINS NATURAL INGREDIENTS ESSENTIAL FOR HEALTHY, STRONG BONES
These include Vitamin K, essential for bone formation; Boron which is an important nutrient for bones and joints; Vitamin D which can increase calcium absorption by as much as 80% therefore protecting against fractures; and Calcium, an essential mineral for healthy bones. Magnesium helps your body absorb calcium. Phosphorus is also needed for bone building. Horsetail is a natural source of organic silica. Organic silica is very important in its relationship with calcium in bone tissue formation.
Recommendations
As a dietary supplement, take three to six capsules per day following meals or as directed by your health care professional.