Bio-Mag - 90 TB by MBi Nutraceuticals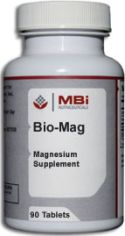 Also Available:
Bio-Mag - 90 TB by Molecular Biologics - MBi Nutraceuticals
Bio-Mag is simply a magnesium supplement for when a little extra magnesium is all you need. Magnesium is used to prevent some cardiovascular maladies such as atherosclerosis and angina. It is also used to halt acute asthma attacks and reduce apnea in infants. Magnesium is used to treat glaucoma, fatigue, mental health, and migraines. It is used in pregnancy to lower blood pressure and prevent preeclampsia. Magnesium is also used to prevent kidney stones.
Supplement Facts:
Magnesium 400 mg