Bio-CalMag - 90 CP by MBi Nutraceuticals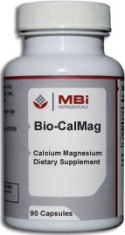 SKU: MBVM123
UPC: 358301248189
Bio-CalMag - 90 CP by Molecular Biologics - MBi Nutraceuticals
Get all the nutrients needed to maintain strong, healthy bones in capsule form. This special formulation contains the right ratios and combinations to provide you with maximum bone health.

Bio-CalMag supplies amino acid protein caseinate chelated calcium and magnesium in one easy to take supplement. Calcium, the most abundant mineral in the body, is essential for the formation and repair of bone and teeth, but also essential to nerve transmission, muscle contraction, blood clotting and other metabolic activities as well. Magnesium is a mineral necessary for energy metabolism, protein and fat synthesis, neuromuscular transmission, ammonia scavenging and binding of calcium to teeth, etc. Magnesium aids in bone growth, and is necessary for proper functioning of nerves and muscles.
CALCIUM AND MAGNESIUM PROMOTE HEALTHY BONES AND BODY TONE
The body actually needs calcium for more than just the bones and teeth; it is also critical for the muscles, heart, and nervous system. Bio-CalMag is pH-balanced, which is essential for the best absorption of calcium. Vitamin D, Vitamin K, trace minerals, and boron play specific roles in healthy calcium metabolism, while calcium and magnesium team up with these vital nutrients to promote healthy bone structure, enhance muscle tone and relaxation, and maintain dental health. Magnesium is critical for more than 300 different enzyme systems in the body, plus being necessary for healthy bones and ATP production, which provides cellular energy. Maintain the structure of the bones and muscles, enhance digestive pH balance, and strengthen overall body cells with Bio-CalMag.

WE NEED UP TO 1200 MG OF CALCIUM DAILY
The National Academy of Sciences has recently re-established recommended intakes for calcium as much as 50% higher than previous RDA levels; 1,000 mg daily for adults up to 50 years of age, and 1200 mg for adults over 50. Most diets, especially those of teenagers, provide far lower levels of calcium than these recommendations. Because bone mass is built predominantly during adolescence and young adult years, we have to rely on that "bank account" the rest of our lives. Double-blind studies have substantiated that increased intake of calcium in the diet leads to increased bone mass in pre-pubertal girls. This is likely to translate into lifelong healthier bones.

Regular exercise and a healthy diet with enough calcium help teen and young adult white and Asian women maintain good bone health and may reduce their high risk of osteoporosis later in life.

Recommendations
As a dietary supplement, take two to six capsules per day following meals or as directed by your health care professional.
Ingredients
Vitamin D3 200 IU
Vitamin K 100 mcg
Pyridoxine HCl 10 mg
Calcium 525 mg
Magnesium 260 mg