N-Acetyl-Glucosamine (NAG) - 500 MG - 90 VCP by Allergy Research Group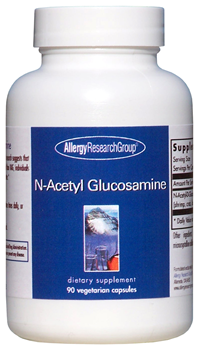 List Price:
$41.10
Sale Price:
$35.95
You Save:
()

SKU: ALL410
MPN: 71140
UPC: 713947711402
N-Acetyl-Glucosamine (NAG) 500 mg 90 Vege Capsules (Hypoallergenic) by Allergy Research Group, Nutricology.
N-Acetyl Glucosamine (NAG) differs from glucosamine sulfate in that it is attached to an acetic acid molecule, while glucosamine sulfate is attached to a sulfuric acid molecule. Although glucosamine sulfate is researched as being better absorbed than NAG, individuals sensitive to sulfur may tolerate NAG better and potentially derive more benefit from its use.* NAG is also well recognized for gastrointestinal support by enhancing mucosal integrity.
Suggested Use: As a dietary supplement, 1 capsule three times daily, or as directed by a healthcare practitioner.
Serving Size 1 capsule
Servings per container 90
Amount per serving:
N-Acetyl-D-glucosamine 500 mg
Other ingredients: Gelatin, cellulose, magnesium stearate.
These nutrients are of the highest quality and purity obtainable, free of all common allergens (antigens), and do not contain preservatives, diluents, or artificial additives.
Keep in a cool, dry place, tightly capped. # 71140
Supplement Facts
Serving Size: 1 capsule
Servings Per Container: 90
Amount Per Serving
% Daily Value
N-Acetyl-D-glucosamine (shrimp, crab, lobster)
500 mg
*Daily Value Not Established
Other Ingredients: Hydroxypropyl methylcellulose, microcrystalline cellulose, L-leucine.
N-Acetyl Glucosamine (NAG) has glucosamine attached to an acetic acid molecule, whereas glucosamine sulfate has it attached to a sulfuric acid molecule. Although research suggests that glucosamine sulfate is better absorbed than NAG, individuals sensitive to sulfur may tolerate NAG better.*