No Shift Lag - 30 TB by Miers Laboratories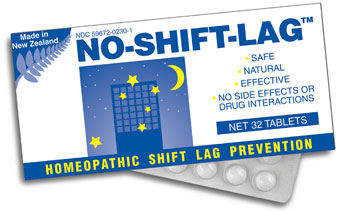 List Price:
$10.95
Sale Price:
$9.50
You Save:
()
Save even more with Volume Discounting:
| | | | | |
| --- | --- | --- | --- | --- |
| Qty | 1 - 2 | 3 - 5 | 6 - 11 | 12+ |
| Price | $9.50 | $9.24 | $9.07 | $8.90 |

No Shift Lag by Global Source - Miers Laboratories can help with
Fatigue and tiredness
Irritability
Lack of concentration and motivation
Broken sleep after shift work
Bad moods
Stomach problems
Lowered vitality
Shift lag is the curse of night shift work, resulting in loss of working efficiency, broken sleep and many other problems.
No Shift Lag, a unique homeopathic remedy, now offers a convenient solution. Its effectiveness has been proven clinically and use is fast becoming recognized by night shift workers.
Night shift workers show that almost everyone who works through the night suffers from shift lag. Some are more able than others to adjust to the differences while others find it very difficult to cope with the extra stress working at night creates. While the stress of night work is hard it s the extra problem of lack of quality sleep after the night shift that makes the problem far worse.
Anecdotal evidence indicates shift lag also makes shift workers more susceptible to colds, flu and stomach upsets.
It hardly seems possible that so many problems could result from merely working at night, but as the comments from night shift workers shows, it affects even those who have been working night shift for years. There is mounting evidence that the problems from working night shift get worse not better the longer time night shifts are worked. Problems tend to get worse after working nights shifts for longer than five years.
The cause of Shift lag is being active and working at 3:00am in the morning. This disrupts our body clock (circadian rhythm). This in turn affects body temperature, heartbeat, blood pressure and physiological patterns, leading to disorientation and mental and physical fatigue.
In addition, the strange working hours and usual drop in temperature at night can see night shift workers not drinking enough fluids and can cause mild body dehydration.
The effects of Shift lag may be made worse by not eating enough during the shift, excessive coffee drinking, by loss of sleep, and also by being tired or not in good condition before the night shift, although these are not specifically causes of Shift lag.

Dosage:
One tablet of No-Shift-Lag should be taken at the start of each night shift, another half way through the night shift, and another after the end of the night shift. However, variation of these directions is acceptable and may be found preferable.

Warning:
No-Shift-Lag can be used by workers of all ages. If a user already suffers from a major medical problem, normal caution should be exercised when working night shifts. If after working night shifts the symptoms of shift lag continue, professional help should be sought. No-Shift-Lag does not counter the effects of existing medical disorders when working night shifts, or the effects of alcohol or general exhaustion.
No-Shift-Lag may be taken with any other medication. Like other homeopathic remedies, No-Shift-Lag is most effective when taken separately from food and drink, but has been specially formulated so that it may if necessary be taken in association with food and/or drink, i.e. coffee.
With the minute doses involved there is little possibility of adverse effects. There has never been any recorded adverse effect from homeopathic remedies above 12C. All remedies used in No-Shift-Lag are 30C, well above the 12C limit.
Should a client take more No-Shift-Lag than recommended, no harmful side effects should be expected, owing to the minute dilutions of active ingredients employed in homeopathic preparations.

Active Ingredients:
The five homeopathic remedies listed below are the active ingredients in No-Shift-Lag.
Arnica, extracted from Arnica Montana (leopard's bane).
To alleviate injuries, strains, tension, over-exertion, mental strain and shock, sleeplessness and restlessness when over-tired.
Bellis Perennis, extracted from the common daisy.
To alleviate muscular soreness, venous congestion due to mechanical causes (e.g. sitting without frequent exercise), waking mid-sleep.
Chamomile, extracted from German chamomile.
To alleviate emotional and mental stress, sleeplessness, impatience, intolerance and disorientation.
Phytolacca Decandra, extracted from poke root.
To alleviate restlessness, soreness, indifference, prostration, gritty and sore eyes, any condition that is worse in the morning, and by disposition those worse at night time.
Zincum Metallicum, extracted from zinc metal.
To alleviate cerebral depression or "brain fatigue", worn out nervous system, reduced vitality, adversity to work, and lethargy.