Squalene - 60 CP by Ecological Formulas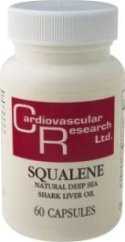 List Price:
$15.95
Sale Price:
$14.20
You Save:
()

Squalene 500 mg 60 caps - Ecological Formulas, Cardiovascular Research.
Natural Deep Sea Shark Liver Oil
An individually resolved component of Aizame shark liver oil.
This ubiquitous compound (C30H50) is also found in human tissues and plasma.
One capsule contains:
Squalene 500 mg
Suggested Use:
Take 1-3 capsules daily w/ meals or as directed.
Supplement Facts
Serving Size: 1 softgel
Servings Per Container: 60
Amount Per Serving
% Daily Value
Calories
5
Calories from fat
5
Total fat
0.5g
Squaline (from shark liver oil) (minimum of 20% Alkylglycerols)
500mg
**
*Daily Value Not Established
Other Ingredients: Gelatin, Glycerin, Shell Ingrediets: Gelatin, Glycerin, Purified Water.
Squalene from shark liver oil is extracted from the shark species, Somniosus microcephulus and Lamnanusus. This rich source of natural deep sea shark liver oil is standardized to contain 100 mg of alkylglycerols and contains no yeast, wheat, milk or milk derivatives, lactose, sugar, preservatives, soy, artificial color or flavor.
Store in a cool dry place to ensure freshness.