Sialex - 500 MG - 90 CP by Ecological Formulas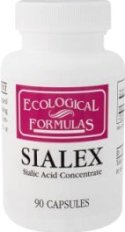 List Price:
$17.95
Sale Price:
$15.95
You Save:
()

Sialex 500 MG 90 capsules by Ecological Formulas - Cardiovascular Research.
Ingredients:
Mucin (a source of sialic acid) 500 mg.
This is a nutritional supplement containing a special extract of mucin. Mucin contains large amounts of sialic acid (N-neuraminic acid).
Suggested Use:
1 to 3 caps after meals>