Rheumatol Forte - 60 CP by Ecological Formulas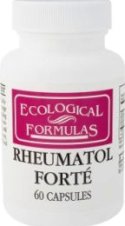 List Price:
$14.95
Sale Price:
$13.45
You Save:
()

Rheumatol Forte 60 caps - Ecological Formulas, Cardiovascular Research.
Serving Size: 1 Capsule

Ingredients:
Collagen Type II 200 mg, (source of Collagen is chicken, Collagen is denatured) Chondroitin Polysulphates 100 mg
Hyaluronic acid 5 mg.
Suggested Use:
1 to 2 capsules daily.
Supplement Facts
Serving Size: 1 capsule
Servings Per Container: 60
Amount Per Serving
% Daily Value
Collagen
200mg
**
Chondroitin Sulfate
100mg
**
Hyaluronic acid
5mg
**
*Daily Value Not Established
Other Ingredients: Gelatin, Calcium Stearate, Silicon Dioxide.
Rheumatol Forte is a scientifically-designed supplement containing a range of complimentary ingredients including individually-resolved fractions of chondroitin polysulphates, hyaluronic acid, and collagen type II. Contains no corn, soy, yeast, wheat, dairy, or other common food allergens.