CO-Enzyme Q10 - 30 MG - 60 CP by Ecological Formulas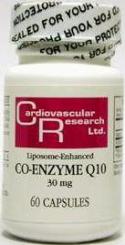 List Price:
$26.95
Sale Price:
$23.95
You Save:
()

Co-Q 10 - Ecological Formulas, Cardiovascular Research.
Co-Q 10 is a co-enzyme, which has antioxidant properties, is important for coronary health and has beneficial effect on many other functions. A necessary enzyme in the body located in the mitochondria of cells, and found mostly in the cardiac muscle tissue, as well as skeletal muscle tissue, liver, kidney and reproductive organs.
Deficiencies have been reported in patients with cardiac disorders, cancer, hypertension, diabetes mellitus, periodontal disease, muscular dystrophy and AIDS.
It is important in the formation of ATP (adenosine triphosphate) which produces energy at the cellular level in the body and is essential for cardiac performance.
Assists in preventing heart disorders including, cardiomyopathy, myocardial ischemia, angina, hypertension and congestive heart failure.
Ingredients:
Each capsule contains:
Co-enzyme Q10 30 mg.

Suggested Use: Take one capsule daily, or as directed by a physician.
Supplement Facts
Serving Size: 1 Capsules
Servings Per Container: 60
Amount Per Serving
% Daily Value
Calcium (as dicalcium phosphate)
60 mg
6%
Phosphorus (as dicalcium phosphate)
47 mg
4 %
Co Enzyme Q-10
30 mg
**
Niacin (as niacinamide)
Other Ingredients: microcrystalline Cellulose, Magnesium Stearate, Silicon Dioxide, Soy Lecithin.