Daily Maintenance Kit - 4 Bottles by ChildLife Essentials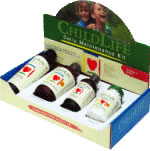 List Price:
$60.80
Sale Price:
$54.70
You Save:
()
Save even more with Volume Discounting:
| | | | | |
| --- | --- | --- | --- | --- |
| Qty | 1 - 2 | 3 - 5 | 6 - 11 | 12+ |
| Price | $54.70 | $53.50 | $52.77 | $52.04 |

Daily Maintenance Kit by Childlife
(30/45 DaySupply)

PERISHABLE ITEM NON-RETURNABLE

This item is not available for shipment to patients in Canada.

Kit Includes:
1 - Essential Fatty Acids 8 OZ
1 - Multi Vitamin & Mineral 8 OZ
1 - Vitamin C 40 OZ
1 - Colostrum w/Probiotics 50 grams

Essential Fatty Acids 8 oz
Ingredients per teaspoon:
Calories 40
Total Fat 4.5 g
Saturated Fat 0.5 g
Polyunsaturated Fat 2.5 g
Monounsaturated Fat 1 g
Cholesterol 0 mg
Sodium 0 mg
Total Carb 1 g
Protein 1 g
Vitamin A 0%
Vitamin E 2%
Vitamin C 0%
Calcium 0%
Iron 0%
Omega-3 EFAs 1825 mg
Omega-6 EFAs 850 mg
Omega-9 FAs 1125 mg
Lignans 1.7 mg

Other ingredients: Unrefined organic oils of flax, olive, and pumpkin, organic flax seed particulate, and natural butterscotch flavoring.  

Suggested use:
For infants 6 months-1 year: 1/4 teaspoon every other day.  
For children 1-5 years: 1/2 teaspoon daily.  
For children 5-12 years: up to 1 teaspoon daily.  
For pregnant or nursing mothers: 1-3 teaspoon daily.  
Shake and stir well before use.  
Keep refrigerated
Mix with your child's favorite drink or food.  

Important: Do not cook with this oil or heat over 120 degrees Fahrenheit.  Use with 8 weeks of opening.  Keep Refrigerated.  Shake Well.  

Multi Vitamin & Minerals 8 OZ

Ingredients per 2 Teaspoons (10 ml)
Calories 20
Total Carbohydrate 5
Sugars <1g

Vitamins:
Vitamin A (retinol palmitate) 850 IU
Vitamin A (beta carotene) 850 IU
Vitamin C (ascorbic acid) 135 mg
Vitamin D3 (cholecalciferol) 275 IU
Vitamin E (d-alpha-tocopheryl acetate) 20 IU
Vitamin K (phytonadione) 15 mcg
Thiamin (thiamin hcl) (B1) 2 mg
Riboflavin (ribo-5-phosphate) (B2) 2 mg
Niacin (niacinamide) (B3) 10 mg
Vitamin B6 (pyridoxine hcl) 2 mg
Folate (folic acid) 135 mcg
Vitamin B12 (cyanocobalamin) 6 mcg
Biotin 65 mcg
Pantothenic Acid (d-pantothenol) (B5) 7 mg

Minerals:
Calcium (lactate) 55 mg
Iodine (potassium iodine) 50 mcg
Magnesium (hydroxide) 15 mg
Zinc (gluconate) 5 mg
Selenium (selenomethionine) 35 mcg
Manganese (gluconate) 1.5 mg
Chromium (polynicotinate) 7 mcg
Potassium (citrate) 14 mg
PABA (para-amino benzoic acid) 1 mg
Inositol 20 mg
Choline (bitartrate) 20 mg

Other Ingredients: Purified water, Fructose, Lecithin, Xanthan, Citric Acid, Natural Flavor, Potassium Sorbate (as a preservative), Citricidal (grapefruit seed extract).  

Suggested Use:
For infants up to 1 year: 1 teaspoon daily.  
For children 1 to 4 years: 1-2 teaspoons daily.  
For children 4 to 12 years: 2-3 teaspoons daily
Shake well before use.  
Keep refrigerated after opening.  
Mix with juice or your child's favorite drink.  

Vitamin C 4 OZ

Ingredients per teaspoon (5 ml):
Vitamin C (ascorbic acid) 250 mg (417% USRDA).  

Other Ingredients: Purified Water, Fructose, Glycerin, Potassium Bicarbonate, Grapefruit Seed Extract, Potassium Sorbate, Xanthan, Natural Orange.  

Suggested Use:
For infants up to 1 year 1/2 teaspoon daily
For children 1 to 12 years 1-2 teaspoons daily
Shake well before use.  
Can be mixed with juice or your childs favorite drink.  

Colostrum w/Probiotics 50 grams

Ingredients per 1/4 teaspoon (1 gram):
Colostrum 700 mg
Rice Tocotrienols 100 mg
F.O.S.  (Fructo-Oligo-Saccharides) 100 mg
Probiotic bacteria 75 mg (providing Bifidobacterium Bifidum 0.5 billion, Bifidobacterium Infantis 0.5 billion, Lactobaccillus Acidophillus 0.5 billion)

Other ingredients: Stevia and All Natural Citrus Flavor.  

Suggested Use:
For infants up to 1 year 1/4 teaspoon daily
For children 1-5 years 1/2 teaspoon daily
For children 6-12 years 1/2 teaspoon twice daily
Sprinkle serving in water, Juice, Formula or Food.  For Optimum strength, keep refrigerated.  
Multi-Vitamin & Mineral Orange/Mango Flavor 8 fl. oz. (237ml)

The full spectrum of essential vitamins and minerals support healthy development, strong immune function as well as emotional and mental vitality.* Research shows that one of the fundamental reasons for the decline in children's health and immunity is the decline in the nutritional content and value of their diet. Supplementing a child's diet a smart way to ensure that all nutritional needs are fulfilled.

Today's children face unprecedented challenges from two very important areas. On one hand, the nutritional value of the food we eat decreases as the nutritional content of the soil is depleted through time and modern farming methods. On the other hand, the rapid increase in environmental pollution and toxic burden creates an increased need for these nutrients - the vitamins and minerals that protect, nourish and sustain a child's natural, healthy development. Support your child's growth and development with this Multivitamin and Mineral formula.*

Pure DHA Berry Flavor 90 soft gel caps (250mg each)

ChildLife Pure DHA provides concentrated DHA in a tasty, easy to use, naturally flavored soft gel that can be chewed or swallowed. Our DHA is sourced from the purest fish oils available. The contents of each capsule are tested for any contaminants, PCB's, dioxins, metals, mercury, or other toxins, and exceeds the highest standards for purity.

Our gelatin is derived from fish (most other brands use Pork or Beef gelatin).

DHA plays a vital role in how well a child's brain can grow and function. Up to 60% of the human brain is built from, runs on, and is constructed from essential fats and oils. DHA continues to be the most prevalent and vital nutrient within these oils for supporting healthy brain function and development.*

Probiotics with Colostrum Powder Natural Orange/Pineapple Flavor 50g powder (1.7oz)

ChildLife's Probiotics with Colostrum provides Nature's ultimate formula for enhancing a child's health, vitality, immune and digestive strength.* It is the only formula for children that contains Colostrum prepared with Probiotics. This combination creates a very unique product for enhancing both immune system* and digestive strength.*

Health Tip
Colostrum is nature's first food for the immune system. ChildLife uses the finest bovine Colostrum that has been naturally harvested and specially prepared with Probiotics to enhance the health and vitality of your child's immune and digestive system.*

Liquid Vitamin C Orange Flavor 4 Fl.Oz. (118.5ml)

Well-known as a primary antioxidant, Vitamin C is also important for healthy immune functions.* Daily use may help to maintain and improve overall health. Vitamin C can be used daily for supporting natural immune responses and defending the body.

For immune support and environmental protection, use ChildLife Vitamin C daily as a vital antioxidant.* When needed, use with ChildLife First Defense and ChildLife Echinacea.