Complex-M with Ginkgo - 60 CP by Allergy Research Group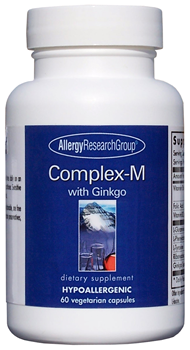 List Price:
$31.51
Sale Price:
$28.20
You Save:
()

SKU: ALL290
MPN: 71360
UPC: 713947713604
Complex-M with Ginkgo 60 capsules Basic Brain Support (Hypoallergenic) by Allergy Research Group, Nutricology.
A nutritional formula designed to support the central nervous system, as well as circulation and the production of neurotransmitters in the brain, particularly the neurotransmitters epinephrine and norepinephrine.
Suggested use: As a dietary supplement, 1 capsule two or three times daily on an empty stomach, or as directed by a healthcare practitioner. Sensitive individuals may want to take with a non-protein food.
Serving Size 1 capsule
Servings per container 60
Amount per serving:
Vitamin B6 (as Pyridoxal-5'-Phosphate) 5 mg
Folic Acid 400 mcg
Vitamin B12 (as Cyanocobalamin) 400 mcg
L-Glutamine 200 mg
L-Phenylalanine 100 mg
L-Tyrosine 100 mg
Ribonucleic Acid (RNA) 18 mg
Ginkgo biloba (leaves) extract (standardized to 24% ginkgo flavonglycosides and 6% terpene lactones) 70 mg
Other ingredients: Gelatin, cellulose, silicon dioxide, magnesium stearate.
These nutrients are of the highest quality and purity obtainable, free of all common allergens (antigens), and do not contain preservatives, diluents, or artificial additives.
Keep in a cool, dry place, tightly capped.