Noxylane 4 DS - 60 CP by Lane Labs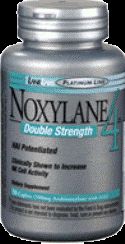 SKU: LAN430
MPN: NX4-60DS

NOXYLANE 4 information NOXYLANE 4 PDF
Tune up the immune system with NOXYLANE 4
Of the 130 subtypes of white blood cells that make up the immune system, the most important are the T, B, and NK cells.
T and B cells are responsible for producing antibodies and chemical messengers (cytokines) that mobilize the immune system for action, while NK cells make up the body s first line of defense. The key to optimum immune system function appears to be not the raw number of NK cells most people have them in adequate numbers but the number and activity of the microscopic granules within each NK cell.
By encouraging the development of large numbers of highly active granules within the NK cells, NOXYLANE 4 works to tune up" the immune system while optimizing T, B, and NK cell function.
NOXYLANE 4 is manufactured using a patented process which hydrolyzes rice bran with the enzymatic extract of shiitake mushrooms.
In published studies, NOXYLANE 4 was shown to increase NK cell activity by more than 300%, B cell activity by 250% or greater, and T cell activity by 200% better than other vitamin, herbal or medicinal mushroom therapies.
Stimulating these immune system cells with NOXYLANE 4 gives the immune system the ammunition it needs to keep the entire body in good health naturally!
SPECIAL PRICING ON 12 BOTTLE OR MORE.
The only natural immune complex that:
Clinically shown to triple natural killer (NK) cell protection,
Enhances B-cell & T-cell activity and increase interferon levels.
Do not have to cycle on and off.
Strong word of mouth recommendations, many user testimonials.
NOXYLANE 4 is safe and Natural with no harmful side effects.
NOXYLANE 4 is manufactured by hydrolyzing rice bran with the enzymatic extract of shiitake mushroom.
Is supported by 9 clinical efficacy studies (72 human patients).
Arming the Immune System with NOXYLANE 4
The old saying "The best defense is a good offense," true in sports, is proving to be true in medical science as well. Recent studies at Charles Drew University of Medicine and Science in Los Angeles have shown that a natural supplement called NOXYLANE 4 can more than triple Natural Killer (NK) cell activity and enhance T- and B- cell function better than any other vitamin, herbal or medicinal mushroom therapies tested. These cells are the primary constituents of the immune system, the body's defense against invaders and disease.
Recently, the most promising breakthroughs in medicine have come from the new field of immune-stimulating therapies. NOXYLANE 4's dramatic immune- boosting effects have far-reaching implications for treatment and prevention because NK cells and T- and B-celis are vital. If you visualize the immune system as an "army" of over 130 subtypes of white blood cells, you can consider the NK cells the "elite troops." NK cells are the front line of defense, specially equipped to locate and to kill disease cells. T- and B-cells are responsible for producing antibodies and cytokines that rally the rest of the immune system to join the battle.
Studies conducted in the United States, published in the International Journal of Immunology and presented at the Association of Cancer Research and the International Conference on AIDS, show that MGN-3 can enhance NK cell activity by more than 300%, increase the activity of B-cells by 250% or greater, and boost T-cell activity by 200%.
There is no other supplement like NOXYLANE 4. It is made by Lane Labs and a Japanese pharmaceutical company, using a patented process which modifies rice bran with polysaccharides from medicinal mushrooms. Its inventors call it an "Arabinoxylane" compound.
A look at the research confirms NOXYLANE 4's clear superiority to other natural immune enhancing products (most of which lack scientifically valid research to substantiate their claims). NOXYLANE 4 is supported by 7 published studies in peer-reviewed scientific and medical journals. Where other products' research cites studies on animals, NOXYLANE 4's published studies include data from 72 human patients. In terms of NK cell function, NOXYLANE 4 shows the best results. In studies with mice, lnositol (IP-6) showed an increase of 40% and maitake mushrooms boasted a 50% increase. NOXYLANE 4 studies showed an average increase in NK cell function of over 200% - an increase that is more meaningful because it comes from studies on humans.
One final way in which NOXYLANE 4 outperforms other immune-enhancers is its resistance to hyper-responsiveness. Studies on most biological response modifiers - including pharmaceuticals and natural products - show a period of increase in immune activity, followed by a period of decline despite continuation of therapy. NOXYLANE 4, on the other hand, provides a period of gradual increase, followed by a stabilization immune system activity at the peak level for as long as therapy is continued. Dr. Ghoneum Has recorder these results in clinical trials he has administered over a number of years.
These statements have not been evaluated by the Food and Drug Administration. This product is not intended to diagnose, treat, cure or prevent any disease.
Supplement Facts
Serving Size: 2 caplets
Servings Per Container: 30
Amount Per Serving
% Daily Value
Calories
4
Total Fat
Total Carbohydrate
Arabinoxylane Compound Proprietay Blend (rice bran and hyphomycetes mycelia enzyme fromshitake mushroom)
1000 mg
+
HAI Amino Acid Extract (from sea algae)
+
*Daily Value Not Established
Other Ingredients: Microcrystalline Cellulose, Croscarmellose Sodium, Stearic Acid, Silica, Magnesium Stearate, Hydroxy propyl methyl cellulose and Polyethylene Glycol.
Our Best Immune Supplement Ever
Supports NK Cell activity
Same Noxylane™4, back by overwhelming demand