Chronoset - 1.3 MG - 100CP by Allergy Research Group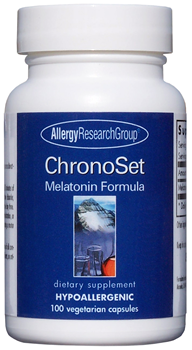 This product has been discontinued
SKU: ALL260
MPN: 71660
UPC: 713947716605
ChronoSet Melatonin Formula (1.3 mg) (Hypoallergenic) 100 capsules by Allergy Research Group, Nutricology.
Chronoset - scientifically designed to reduce the stress of air travel and jet-lag like symptoms, such as shift worker "burnout". Provides safe nutritional support effective in facilitating cycle re-adjustment and accelerating return to normalcy. Useful for conditions that may involve melatonin deficiency such as premenstrual syndrome, melancholia, other depressive states and panic disorders.
Allergy Research Group was the first to introduce melatonin into the healthfood and professional market. It has many nutritional benefits including profound antioxidant properties via hydroxy radical scavenging. However, its main function in the body is to support the aspects of brain chemistry involved in sleep.
The use of high purity melatonin is very important to insure safety.
Suggested Use: As a dietary supplement, 1 or 2 capsules 1 hour before bedtime, or as directed by a healthcare practitioner.
WARNING: May have strong sedating effect within 20 minutes of consumption. In rare cases may adversely effect seasonal affective disorder, depression or have stimulatory effects. Not to be used during the day time. Generally for use at bedtime. Do not operate a motor vehicle or other machinery.
Serving Size 2 capsules
Servings per container 50
Amount per serving:
Melatonin 2.6 mg
Other ingredients: Gelatin, cellulose, magnesium stearate.
This nutrient is of the highest quality and purity obtainable, free of all common allergens (antigens), and does not contain preservatives, diluents, or artificial additives.
Keep in a cool, dry place, tightly capped.