Refluxin - 90 TB by Ecological Formulas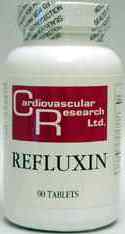 List Price:
$12.95
Sale Price:
$11.70
You Save:
()

Refluxin 90 tablets - Ecological Formulas, Cardiovascular Research.
Ingredients per tablet:
Glucose 375 mg
Pectin 100 mg
Magnesium Carbonate 50 mg
Mucin 50 mg
Sodium Bicarbonate 40 mg
Postassium Bicarbonate 40 mg
Lecithin 25 mg
Other ingredients: Fructose, Citric Acid, Flavoring.
Supplement Facts
Serving Size: 1 tablet
Servings Per Container: 90
Amount Per Serving
% Daily Value
Calories
3
Total Carhydrate
0%
Magnesium (as carbonate)
12mg
3%
Potassium (as bicarbonate)
23mg
1%
Sodium (as bicarbonate)
27mg
1%
Pectin
100mg
**
Lecithin
50mg
**
Mucin
50mg
**
*Daily Value Not Established
Other Ingredients: Glucose, Cellulose, Fructose, Citric Acid, Vanilla Flavor, Magnesium Stearate, Silicon Dioxide
Refluxin consists of a combination of mucoprotective agents (pectin, lecithin, and mucin) which form a viscous floating "raft" when in contact with liquid. A small amount of sodium and potassium bicarbonates reacting with citric acid provides buoyancy. When reflux occurs, the raft becomes part of the refluxate, coating the distal esophagus with a supplemental barrier.