TG100 Organic Glandular - 100 CP by Allergy Research Group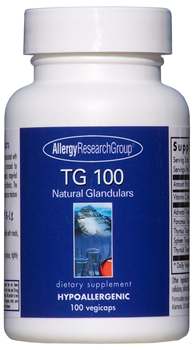 List Price:
$38.46
Sale Price:
$33.65
You Save:
()

SKU: ALL876
MPN: 71800
UPC: 713947718005
TG 100 Organic Glandulars (Hypoallergenic) 100 capsules by Allergy Research Group, Nutricology.
Supports the thyroid gland and the glands associated with thyroid function.* This organic glandular material is processed by lyophilization of glands derived from government-inspected, range-fed animals, raised in New Zealand without hormones or antibiotics. The material is frozen, then subjected to a high vacuum that vaporizes moisture directly from the solid state, thereby maintaining its biological activity.
Suggested Use: As a dietary supplement, 1 to 3 capsules daily with meals, or as directed by a healthcare practitioner.
Serving Size 1 capsule
Servings per container 100
Amount per serving:
Vitamin C (Ascorbic Acid) 120 mg
Adrenal Tissue (Bovine) 5 mg
Pancreas Tissue (Porcine) 5 mg
Thymus Tissue (Ovine) 5 mg
Spleen Tissue (Bovine) 5 mg
Thyroid Tissue (Bovine) 40 mg
Other ingredients: Gelatin, dicalcium phosphate, cellulose, magnesium silicate, magnesium stearate.
These nutrients are of the highest quality and purity obtainable, free of all common allergens (antigens), and do not contain preservatives, diluents, or artificial additives.
Variations in product color may occur. Keep in a cool, dry place, tightly capped. # 71800