Stabilium 200 - 30 GC by Allergy Research Group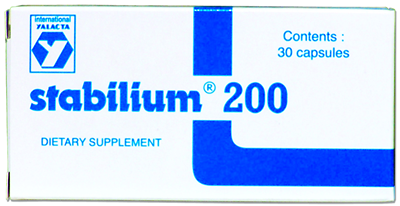 List Price:
$23.65
Sale Price:
$21.40
You Save:
()
Save even more with Volume Discounting:
| | | | | |
| --- | --- | --- | --- | --- |
| Qty | 1 - 2 | 3 - 5 | 6 - 11 | 12+ |
| Price | $21.40 | $20.95 | $20.68 | $20.41 |

SKU: ALL830
MPN: 71150
UPC: 713947711501
Stabilium ® 200 30 individually packaged gel capsules by Allergy Research Group, Nutricology.
An extract called Garum Armoricum used by the ancient Celts (third century BC) of Armorica, Ireland, as a food supplement to improve resilience to physical and emotional stress.* It was also used for the same purpose by the Roman Empire, for women, children, and the elderly, and to prepare the Legionnaires for long marches into battle.
Garum Armoricum is created from the fish Molva dypterygia, found in deep waters off the Armorican peninsula of Brittany. This blue fish has long been a prized catch; even its physical appearance is extraordinary, with enormous eyes and distinctive blue color. It lives at depths of 1500 to 3000 feet. Because of the oxygen deficiency and the great hyperbaric pressure at those depths, the fish developed a special metabolism and physiology, endowed with body chemistry to handle the stress of those conditions. It is thought that ingesting the extract in Stabilium® 200 complex supports the body during modern stressful conditions, both mental and physical, just as it did in ancient times.* Research confirms that Stabilium® 200 may be useful for coping with stresses from work or personal life, and can support healthy sleep patterns, energy, memory and mood.*
Suggested use: As a dietary supplement, four capsules daily, taken all at one time, with water, preferably on an empty stomach. For best results continue use for 15 days, thereafter 2 or 3 capsules every other day, as desired or as directed by a healthcare practitioner.
Serving Size 2 capsules
Servings per container 15
Amount per serving:
Garum Armoricum 210 mg
Virgin Sunflower Oil 170 mg
Lecithin 20 mg
Other ingredients: Fish gelatin, vegetable glycerin, and water (capsule).
Contains fish (Blue ling) and soybeans (lecithin).
Product of France.
This nutrient is of the highest quality and purity obtainable, and does not contain preservatives, diluents, or artificial additives.
Keep in a cool, dry place. # 71150
Supplement Facts
Serving Size: 2 capsules
Servings Per Container: 15
Amount Per Serving
% Daily Value
Garum Armoricum®
210 mg
Virgin Sunflower Oil
170 mg
Lecithin
20 mg
*Daily Value Not Established
Other Ingredients: Fish gelatin, vegetable glycerin, and water (capsule).
An extract called Garum Armoricum® from the fish Molva dypterygia, found in deep waters off the Armorican peninsula of Brittany. It was used by the ancient Celts of Armorica, Ireland, and by the ancient Romans, as a food supplement to improve resilience to physical and emotional stress.* Research confirms that Stabilium® 200 may be useful for coping with stresses from work or personal life, and can support healthy sleep patterns, energy, memory, and mood.*