Ox-Bile - 100 CP by Allergy Research Group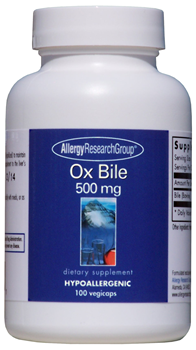 List Price:
$21.84
Sale Price:
$19.10
You Save:
()

SKU: ALL617
MPN: 70850
UPC: 713947708501
Ox Bile (Hypoallergenic) 100 capsules by Allergy Research Group, Nutricology.
Derived from a bovine source and freeze-dried (lyophilized) to maintain its biological activity, Ox Bile is a suitable supplement to the liver s production of bile.* Bile is naturally produced by the body and is used in the process of digestion. Symptoms of constipation and a tan colored stool may indicate that the body s production of bile is less than optimal.*
Suggested Use: As a dietary supplement, 1 capsule three times daily with meals, or as directed by a healthcare practitioner.
Serving Size 1 capsule
Servings per container 100
Amount per serving:
Bile (Bovine) 500 mg
Other ingredients: Gelatin, cellulose, magnesium stearate.
This nutrient is of the highest quality and purity obtainable, free of all common allergens (antigens), and does not contain preservatives, diluents, or artificial additives.
Keep in a cool, dry place, tightly capped. # 70850
Supplement Facts
Serving Size: 1 capsule
Servings Per Container: 100
Amount Per Serving
% Daily Value
Bile (Bovine)
500 mg
*Daily Value Not Established
Other Ingredients: Hydroxypropyl methylcellulose, L-leucine.
Derived from a bovine source and freeze-dried (lyophilized) to maintain its biological activity, Ox Bile is a suitable supplement to the liver's production of bile.*