Acetyl-L-Carnitine - 250 MG - 60 VCP by Allergy Research Group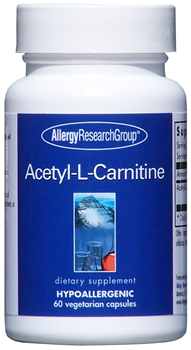 List Price:
$38.34
Sale Price:
$33.55
You Save:
()

SKU: ALL515
MPN: 70650
UPC: 713947706507
Acetyl-L-Carnitine Free Form Amino Acid (Hypoallergenic) 250 mg 60 Vege Capsules by Allergy Research Group, Nutricology.
The acetyl derivative of L-carnitine. Like L-carnitine, acetyl-L-carnitine is involved in the metabolism of protein, carbohydrates and fats, as well as the conversion of fats into energy and triglyceride metabolism. Acetyl-L-carnitine crosses the blood brain barrier more readily than L-carnitine, has antioxidant properties, and because it has an affinity for nerve cells, may especially provide antioxidant protection for neuronal integrity. Acetyl-L-carnitine supplementation has been shown to support glutathione and CoQ10 levels. It mimics acetylcholine and therefore may positively affect the brain chemistry involved with memory and moods, as well as energy production in the brain. Free form amino acid, high purity, well tolerated.
Suggested Use: As a dietary supplement, 1 or 2 capsules two or three times daily, or as directed by a health practitioner.
Serving Size 1 capsule
Servings per container 60
Amount per serving:
Acetyl-L-Carnitine (as Hydrochloride) 250 mg
Other ingredients: Gelatin, cellulose, silicon dioxide, magnesium stearate.
This nutrient is of the highest quality and purity obtainable, free of all common allergens (antigens), and does not contain preservatives, diluents, or artificial additives.
Keep in a cool, dry place, tightly capped. #70650