Immune Prime - 5 ML by Allergy Research Group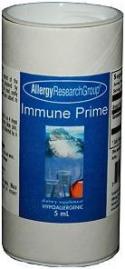 This product has been discontinued
Immune Prime by Allergy Research Group
Immune Prime is a non-toxic essential oil extract of the Geraniaceae (Geranium) plant family, containing 5% oxygenated geranium oil prepared by proprietary methods. Immune Prime supports and enhances the phagocytic activity of the white blood cells, and has a modulating effect on the immune system.* May be used orally or topically. Other ingredients are added to enhance absorption.
Suggested Use: As a dietary supplement, 3 or 4 drops orally and swallow, or rub into clean skin, three or four times daily, or as directed by a healthcare practitioner.
| | |
| --- | --- |
| Serving Size | 3 drops (approx. 100 mg) |
| Servings per container | 50 |
| Amount per serving: |   |
| Geraniacea Plant family Extract | 5 mg |
Other ingredients: DMSO, propylene glycol, laurydone, soy lecithin.
Important Information
THIS MATERIAL IS SENSITIVE TO LIGHT, HEAT AND WATER.
• Keep in the freezer for long term storage.
• Refrigerate for general use.
• Short term (1-2 days) exposure to room temperature is acceptable.
KEEP THIS MATERIAL AWAY FROM WATER. WATER WILL ACTIVATE THE MATERIAL AND ITS POTENCY WILL BE LOST.
Shipments sent outside of California must select 1st. or 2nd. day air.