Russian Choice GI Immune - 100 VCP by Allergy Research Group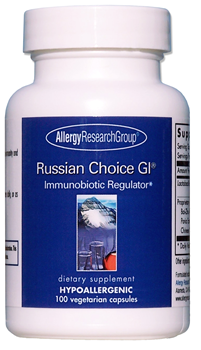 SKU: ALL801
MPN: 75620
UPC: 71394756205
Russian Choice GI 100 veg capsules by Allergy Research Group, Nutricology.
Description
Russian Choice GI contains a proprietary blend of Russian Choice Immune Powder (specially prepared lactobacillus cell wall fragments), and extracts of three traditional Chinese medicine (TCM) herbs, atractylodes, poria and Chinese yam. Russian Choice GI provides synergistic support for immunity, and gastrointestinal detoxification and health.*
Serving Size: 3 vegetarian capsules
Servings Per Container: 33
Amount Per Serving: Lactobacillus rhamnosus Lysate Powder 360mg
Proprietary Blend 540mg
Bai-Zhu Atractylodes (Root) Extract
Poria Extract Chinese Yam (Root) Extract
Other ingredients: Cellulose.
Suggested Use: As a dietary supplement, 1 to 3 capsules two times daily, or as directed by a healthcare practitioner.
Note: Keep in a cool, dry place, tightly capped. Refrigeration not needed.
*These statements have not been evaluated by the U.S. Food and Drug administration. The product is not intended to diagnose, treat, cure, or prevent any disease.
Contents of this Web Page are for the purpose of information and education only, and not a guide to diagnosis or treatment of a particular disorder or its symptoms. # 75620