DHA Fish Oil Concentrate - 90 SG by Allergy Research Group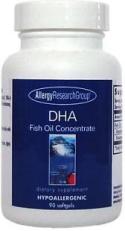 This product has been discontinued
DHA Fish Oil Concentrate 90 soft gels (Hypoallergenic) by Allergy Research Group, Nutricology.
A rich source of docosahexaenoic acid (DHA) prepared from molecularly distilled cold water fish, such as cod, mackerel, salmon, and shark. DHA is an omega-3 fatty acid and is important for maintaining the fluidity and function of cell membranes, particularly in the retina and the brain. The product provides a minimum of 45% DHA in an easy-to-swallow, small capsule. Every batch is tested to insure purity and the absence of heavy metals and other potential contaminants.
Suggested Use: As a dietary supplement, 1 or 2 soft gels two or three times daily with meals, or as directed by a healthcare practitioner.
Serving Size 1 soft gel
Servings per container 90
Amount per serving:
Fish Oil 300 mg
Docosahexaenoic acid (DHA) 135 mg
Eicosapentaenoic acid (EPA) 16 mg
Other ingredients: Gelatin, glycerin, water.
This nutrient is of the highest quality and purity obtainable, and does not contain preservatives, diluents, or artificial additives.
Variations in product color may occur. Keep in a cool, dry place, tightly capped. # 72630