Pollenase-Stinging Nettles - 50 CP by Ecological Formulas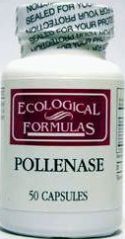 List Price:
$12.95
Sale Price:
$11.45
You Save:
()

Pollenase 50 caps - Ecological Formulas, Cardiovascular Research.
Supplement Facts:
Serving size: 1 Capsule
Servings Per Container: 50
Vitamin C (from ascorbyl palmitate) 12 mg
Freeze Dried Nettles (Urtical dioica) 200 mg
N-Acetyl-Cysteine 100 mg
Ascorbyl Palmitate 30 mg
Directions: Take one or two capsules daily, or as directed by a physcian.
Supplement Facts
Serving Size: 1 capsule
Servings Per Container: 50
Amount Per Serving
% Daily Value
Vitamin C (from ascorbyl palmitate)
12mg
20%
Urtica diocia
200 mg
**
N-Acetyl L-Cysteine
100 mg
**
Ascorbyl palmitate
30 mg
**
*Daily Value Not Established
Other Ingredients: Cellulose, Silicon Dioxide
Pollenase is a scientifically designed nutritional supplement. This product is free of corn, soy, wheat, yeast and other common allergens.