Y-Snore Drops - 5 ML by Y-Snore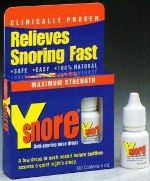 This product has been discontinued
SKU: YSN200
MPN: NDOSAN
UPC: 798311331011
YSnore by Ysnore in recent preliminary medical studies has been seen as effective in as many as 65% of disruptive snoring cases. Y-Snore has the potential to successfully benefit up to 50 million people in the US, or 1.2 billion worldwide. Y-Snore wants to bring you relief and some humor about this serious subject.
Just a few sprays or drops in each nostril before bedtime... So you and your family will enjoy a quiet night's sleep.
For a quiet nights sleep a few drops in each nostril before bedtime.
Active ingredients: (in each drop)
Dioscorea Villosa 2x HPUS and Zingiber Officinale 2x HPUS
Purpose: To help reduce irritation of nasal passage.
Inactive ingredients:
Benzalkonium chloride, ethanol, glycerin, purified water, and sodium chloride.