Pancreas Tonic - Glycoprin - 180 CP by Natural Choice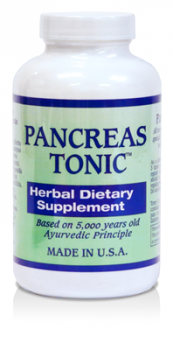 List Price:
$36.95
Sale Price:
$33.70
You Save:
()
Save even more with Volume Discounting:
| | | | | |
| --- | --- | --- | --- | --- |
| Qty | 1 - 2 | 3 - 5 | 6 - 11 | 12+ |
| Price | $33.70 | $33.05 | $32.66 | $32.27 |

SKU: USB500
MPN: PANCREASTONIC
UPC: 720430555801
Pancreas Tonic by Natural Choice
Pancreas Tonic is one of the most effective products on the market for rejuvenating the pancreas and restoring it back to normal health. Most clients see results between 30 and 90 days. Pancreas Tonic will take between 6 and 12 months to fully restore back to normal. Healing Edge Science is offing this information to save our clients money. Most doctors place their patients on a 6 to 12 month regime which averages 1 bottle per month. To save on shipping charges we recommend purchasing yourself either a 6 or 12 month supply.
Glycoprin is the exact formula by the same manufacture. Save yourself money by purchasing Pancreas Tonic.
Pancreas Tonic can be researched at PubMed
Q: Why was the Pancreas Tonic scientific research done on Laboratory animals and not on humans?
A: Pancreas Tonic herbs have been used for decades in helping balance pancreas function. As you know the above experiment is not possible with humans. The clinical data collected from this study indicate that Pancreas tonic may work in humans by potentially regenerating pancreas balance.
Q: How long is the therapy period?
A: As everybody responds to herbs in a unique way, there is no definite therapy timeline. However Pancreas Tonic can be more effective if you take 2 capsules, 3 times/day as suggested CONTINUOUSLY for 3-24 months which is the suggestion of the manufacture.
Q: How will Pancreas Tonic affect my medication?
A: As with any supplement, people respond differently. Some can reduce medication only minimally, some more, and a few completely.
Q: Is it guaranteed to work for me?
A: Nobody can guarantee how your body is going to respond to Pancreas Tonic. Based upon our experience it helps almost everybody, 100% in some people and less in others. The only way to find out is by trying it yourself.
Q: What is AYURVEDA? I spoke to my nutritionist and even he had never heard about these herbs?
A: The word 'Ayurveda' means Encyclopedia of Life Science. 5000 years ago Sages (medicine men) and Yogis of Ancient India, through their eternal wisdom and knowledge, discovered and documented the healing powers of various plant products in a book called "AYURVEDA". The Ayurvedic system of healing believes in treating the 'root cause' of the disease not the symptoms. All herbs used in Pancreas tonic are carefully selected and processed in a specific way to maximize the healing powers. Herbal books available in bookstores mostly mention herbs available in USA and Europe.
Q: When I ask my doctor about Pancreas Tonic, he felt herbs had no place in traditional medication. What should I do?
A: Your doctor's attitude towards herbs is common and we respect that. It is partly because there is no training on herbs or herbal medicines in Western medical schools and secondly there are not scientific studies done on the efficacy and safety of many herbs. However all the Pancreas Tonic herbs have been scientifically researched and data has been published in various research journals. Summaries of research data, name of journal, publication year, and page numbers etc., on Pancreas Tonic ingredients is provided in the latter part of this book and detailed published articles can be ordered through any University library. There are a number of medical doctors starting to recommend Pancreas tonic to their patients in addition to their regular prescription after seeing some remarkable improvement in their blood tests. In many cases people see the positive difference in their blood within first month of the Pancreas tonic usage.
Q: I want to try Pancreas Tonic, but I am concerned about its safety? Can I take it with my prescription?
A: Ingredients of Pancreas Tonic are vegetables, fruits, herbs and spices which are used in everyday cooking in the Indian sub-continent and have a safe history of thousands of years behind them. There is no evidence of drug interaction with Pancreas Tonic.
Q: Can a person on insulin take Pancreas Tonic?
A: Yes, Pancreas tonic is safe to take for Insulin dependent as Well as Non-Insulin dependent diabetics, however, caution should be exercised regarding hypoglycemia caused by insulin.
Q: How soon can I see results?
A: Some patients may see results with their blood sugar in a relatively short time. Everybody responds differently to Pancreas Tonic, therefore, there is no set therapy timeline. For best results Pancreas Tonic should be taken 3-24 months CONTINUOUSLY. The longer the problem has exist the longer it may take to see results
Q: Is any special diet recommended with Pancreas Tonic?
A: Just follow your Physician's advice and do not consume alcohol as it can reverse the Pancreas Tonic progress.
Q: I have been diabetic for a long time and am suffering from complications in my legs and feet, can I be helped with Pancreas Tonic?
A: Pancreas Tonic has been shown to help or minimize the complications of patients with symptoms related to pancreatic imbalances.
PACKAGE:
180 capsules in a plastic bottle.
SUGGESTED USE:
2 capsules 3 times a day 10-15 minutes before meals.
HOW TO USE IT:
Pancreas Tonic is designed to rejuvenate the Pancreas and it is NOT A SUBSTITUTE TO YOUR PRESCRIPTION FOR GLUCOSE CONTROL. It should be taken in addition to your regular prescription for glucose control. For best results it should be used for 3-24 months CONTINUOUSLY , As your glucose level starts to normalize consult your physician for reducing your prescription medication gradually.
THERAPY DURATION:
Therapy can take from 3-24 months or even more depending upon your condition and how religiously you take Pancreas Tonic as suggested. There is no set therapy duration because everybody is unique and response differs from individual to individual. Consumption of alcohol is not advised.
NO KNOWN SIDE EFFECTS: All natural ingredients of Pancreas Tonic consist of vegetables, fruits, herbs and spices that have been used in India every day and have a safe history of thousands of years behind them.
UPDATES AS OF March 2004
In a Breakthrough Research study "PANCREAS TONIC" published in the OCT. 1998 issue (vol.90 # 10, p.614-618) of the JOURNAL OF THE NATIONAL MEDICAL ASSOCIATION, Washington,DC. USA, PANCREAS TONIC HAS BEEN PROVEN TO REGENERATE PANCREAS ISLET CELLS, thereby RESTORING the NORMAL pancreatic balance in laboratory animals .
Pancreas Tonic helps in the regeneration of the Beta cells of the Islets of the Pancreas thereby restoring the normal pancreas function in laboratory animals.
Pancreas Tonic has shown no allergic reaction or drug interaction.
Physicians have reported that patients with pancreas imbalances on Pancreas Tonic have been able to lower their daily medication requirement.
Clinical laboratory reports on patients taking Pancreas Tonic have shown no adverse effect on the liver, kidneys, or blood.
Pancreas Tonic significantly increases energy levels, reduces fatigue, weakness and promotes a sense of well-being.
Pancreas Tonic helps to reduce sugar craving, hunger & extreme thirst.
Pancreas Tonic helps to reduce frequent night-time urination.
Pancreas Tonic helps to reduce the numbness, tingling, and pain in the legs & feet.
TREAT THE CAUSE, NOT THE SYMPTOM :
Malfunctioning Pancreas gland. SYMPTOM: People keep treating the symptom while the cause of malfunctioning Pancreas , keeps on deteriorating.
HOW PANCREAS TONIC INGREDIENTS AFFECT PANCREATIC IMBALANCES:
Pterocarpus Marsupeum: Pterocarpus Marsupium is a remarkable herb which, according to a scientific research study published in the Lancet issue 1981, p.759, has actually shown to Regenerate Beta cells of the islet of Langerhans of the Pancreas, which are functional in nature. It restores the normal insulin production of the pancreas and stabilizes pancreatic function.
Gymnema Sylvestre: Gymnema Sylvestre curbs down the sugar craving. Recent pharmacological and clinical studies have shown that Gymnema sylvestre acts on the taste buds in the oral cavity as well as in the intestine. It contains "Gymnemic Acid" & the atomic arrangement of gymnemic acid molecules are similar to that of glucose molecules. Gymnemic acid molecules fill the receptor locations on the taste buds thereby preventing activation of the taste buds by sugar molecules present in the food, thus curbing the sugar craving. Similarly gymnemic acid molecules fill the receptor locations in the absorptive external layers of the intestine, thereby preventing the sugar molecules absorption by the intestine which results in low blood sugar level.
Momardica Charantia: The fruit of Memardica Charantia, is described in the Ayurvedic system of medicine as a tonic, stomachic, stimulant, laxative and anthlemintic and it is recommended in treating gout, rheumatism and in diseases of the liver, spleen and pancreas. It is very effective in normalizing the pancreatic function.
Syzigium Cumini: A number of clinical studies have shown Syzigium Cumini helps pancreatic function. It sensitizes the pancreas to produce more insulin and also reduces cell resistance to insulin, which helps to Increase glucose uptake by the cells. It is also very effective in lowering high cholesterol.
Trigonella Foenum graceum: Commonly known as 'Fenugreek', this herb delays the glucose absorption by the intestine thereby reducing the after meals glucose peak levels.
Azardirachta Indica: Studies have shown that it decreases the blood sugar level and prevents Adrenaline-induced hyperglycaemia.
Ficus Racemosa: Studies have shown that dietary fibers of Ficus racemosa reduce total lipids, cholesterol, triglycerides and phospholipids of the liver.
Tinospora Cordifolia: Giloe (Tinospora cordifolia) has long been known in Ayurvedic literature as a tonic, vitalizer and as a remedy for blood sugar and metabolic disorders. It has been used to reduce the blood glucose level.
Aegle Marelose: In clinical studies Aegle Marelose has been shown to improve the functional state of pancreatic beta cells as well as in increasing the uptake of glucose by the cells.
Cinnamomum Tamala: Commonly known as 'Cinnamon', it helps in the digestion of foods and blood sugar balance.
Reference:
Pancreas Tonic can be researched at PubMed
Composition:
Extracts of the following herbs: Aegle Marmelose, Pterocarpus Marsupeum, Gymnema Sylvestre, Syzigium Cumini, Mormardica Chirantia, Trigonella Foenumgraceum, Ficus Racemosa, Tinospora Cardifolia, Azadirachta Indica, Cinnamomun Tamala