Testron-Sx - 60 CP by Nutraceutics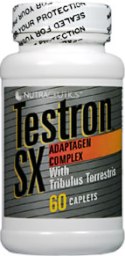 List Price:
$32.00
Sale Price:
$28.00
You Save:
()
Save even more with Volume Discounting:
| | | | | |
| --- | --- | --- | --- | --- |
| Qty | 1 - 2 | 3 - 5 | 6 - 11 | 12+ |
| Price | $28.00 | $27.20 | $26.72 | $26.24 |

SKU: NUTRA52
MPN: 3011
UPC: 602359330113
Testosterone, an androgenic hormone produced by the adrenals and testes of men and ovaries of women functions as a support testosterone, muscle growth, bone maintenance, and mental function and as an intermediate for the production of other hormones. Studies indicate that higher levels of circulating testosterone are associated with a lower risk for heart disease. Declining testosterone production which occurs with age may lead to impairment testosterone production and other functions that are normally supported by testosterone.
Through the use of a combination of plant derived compounds that have been scientifically demonstrated to support physiologic functions associated with testosterone, Testron SX™ produces verifiable results in men, women, and athletes. Testron SX™ bypasses the inherent limitations of using an isolated hormone, by offering a full complement of supportive enzyme-activated herbs and orchic substance, which work synergistically to address the entire endocrine system. Although testosterone is produced by two endocrine glands, production and response to testosterone is affected by the entire endocrine system.
Ingredients: 2 caplets contain
TSX Synergistic Blend: --- 1,650 mg

Proteusterone (dioscorea machro stachya)

Smilex aristolochiaefolii (dried root)

Ginger

Tribulus Terrestris (dried root) 375 mg.

Leucine (as L-leucine hydrochloride)

Testrasterone Complex:

Ptychopetalum olacoides (dried root,dried trunk)

Avena sativa (dried leaf and stem)

Pfaffia paniculata (dried root)

Urtica dioica (dried flowering plant and root)
Supplement Facts
Serving Size: 2 caplets
Servings Per Container: 30
Amount Per Serving
% Daily Value
Calcium
35mg
4%
Tribulus Extract(Tribulus terrestris L aerial part) 45% steroidal saponins
750mg
+
TSX blend
1050 mg
+
Sarsaparilla (Smilex medica) (root)
Proteusterone (Dioscorea villosa) (root)
Oatstraw (Avena sativa) extract (herb)
Muira puama (Ptychopetalum olacoides) extract (woods and roots)
Nettle (Urtica dioica) extract (root)
Sarsaparilla (Smilex medica) extract (root)
L-leucine HCI
50mg
+
Ginger Extract (Zingiberis officinale) (rhizomes)
5mg
+
*Daily Value Not Established
Other Ingredients: Magnesium stearate, calcium carbonate, croscarmellose sodium, MCC, silica, methocell.
Living strong in the modern world.

If you've done any work in the yard, you know the toughest plants in the garden are weeds. Strong, sturdy and sprouting up everywhere. It's a testament to the strength of weeds that humans spend so much time pulling them. And maybe it's that inherent strength that gives Tribulus terrestris its coveted properties. Classified as a weed and also known as Puncture Vine, Tribulus has long been considered key to keeping men strong and virile.*

But TestronSX™ is more than just Tribulus. Nettle root, Oatstraw and Muira puama are also considered key botanicals for men's health.* By combining them with Tribulus, TestronSX offers broader support for different aspects of the male body, and because it is safe and natural, it can provide benefits for men of all ages. In order to keep fit and healthy, some of the most active men—athletes and fitness enthusiasts around the world—rely on TestronSX.