Visio Plex - 200 CP by Progressive Laboratories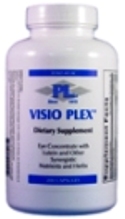 SKU: PRO975
MPN: 441
UPC: 3-51821-00441-9
Visio Plex - 200 CP vegicaps by Progressive laboratories
Loss of vision can be retarded and in some cases vision can be improved when nutrient levels are restored.
Forty percent (15/38) regular users of a supplement containing vitamins B-2, C, E and beta carotene with copper, manganese, and selenium, were able to improve vision by one or more lines over a 6 month period. Cataract regression was seen in a patient treated with selenium and vitamins E, B-2 and B-6. In five months of treatment vision improved from 2/10 to 4/10 in the right eye and from 3/10 to 8/10 in the left eye.
Eye disease was retarded in 70% of nearly 1,000 patients with age-related macular degeneration or diabetic retinopathv who were treated with vitamins A, C, E and selenium.
Preventing eye diseases would not only reduce suffering and disability, it would be economically advantageous as well. In the United States approximately $3.2 billion is spent annually on cataracts alone and approximately 12% of the Medicare budget is spent on cataract removal.
Description:
Visioplex 200 capsules - Eye Concentrate with Synergists.
Directions:
Two to four capsules once or twice daily with meals, or as directed by a doctor.
Sold only for dispensing by a licensed health care professional.
8 capsules contain:
Vitamin A (retinyl palmitate) 7,500 IU
Vitamin A (beta carotene) 25,000 IU 500%
Vitamin C 500 mg 833%
Vitamin E (d-alpha tocopheryl succinate) 400 IU 1333%
Thiamine (vitamin B-1) 20 mg 1333%
Riboflavin (vitamin B-2) 25 mg 1470%
Niacin 10 mg 50%
Niacinamide 50 mg 250%
Vitamin B-6 (pyridoxine HCI) 30 mg 1500%
Folate (as folic acid) 800 mcg 200%
Vitamin B-12 50 mcg 833%
Pantothenic Acid 100 mg 1000%
Calcium (citrate) 100 mg 10%
Magnesium (citrate) 250 mg 62%
Zinc (picolinate) 50 mg 333%
Selenium (selenite/selenomethione) 200 mcg 285%
Copper (amino acid chelate) 3 mg 150%
Raw Eye concentrate 70 mg
Eyebright (Eurphrasia officinalis) 150 mg
Bilberry Powder (fruit) 40 mg
N-acetyl cysteine (NAC) 250 mg
Ginkgo Biloba extract 60 mg
Quercetin 300 mg
Taurine 500 mg
L-Methionine 200 mg
Glutamic acid 50 mg
Glycine 50 mg
Lutein 10 mg
Zeaxanthin 1000 mcg

Other ingredients: rice flour, magnesium stearate, gelatin.
Supplement Facts
Serving Size: 8 capsules
Servings Per Container: 25
Amount Per Serving
% Daily Value
Vitamin A (retinyl palmitate)
7,500 IU
150%
Vitamin A (beta carotene)
25,000 IU
500%
Vitamin C
500mg
833%
Vitamin E (d-alpha tocopheryl succinate)
400IU
1333%
Thiamine (B-1 as thiamine HCI)
19mg
1267%
Riboflavin (vitamin B-2)
25mg
1471%
Niacin (B3 as niacin and niacinamide)
60mg
300%
Vitamin B-6 (pyridoxine HCI)
30mg
1500%
Folate
800 mcg
200%
Vitamin B-12 (cyanocobalamin)
50mcg
833%
Panthothenic Acid
100mg
1000%
Calcium (as calcium citrate)
107mg
11%
Magnesium (as magnesium citrate)
312mg
78%
Zinc (as zinc picolinate)
50mg
333%
Selenium (as seleno-L-methionine)
200mcg
286%
Copper (as copper amino acid chelate)
3mg
150%
Taurine
500mg
*
Quercetin
285 mg
*
N-acetyl cysteine (NAC)
250mg
*
L-Methionine
200mg
*
Eyebright (herb)
150mg
*
Raw Eye Concentrate
70mg
*
Ginkgo Extract (24/6) 24% flavonglycoside/6% terpene lactone
60mg
*
L-Glutamic Acid
50mg
*
L-Glycine
50mg
*
Bilberry Extract Powder (fruit) 25% proanthocyanidins
40mg
*
Lutein
10mg
*
Zeaxanthin
1000mcg
*
*Daily Value Not Established
Other Ingredients: gelatin, rice flour, vegetable magnesium stearate.
While a deficiency of even one nutrient may damage eyes and cause vision problems, the risk for cataracts, macular degeneration and other vision problems is most significant when several specific nutrients are low in the diet. This comprehensive nutritional formula provides the nutrients specifically related to the support of eye health and vision.