TMG Plus - 60 TB by Progressive Laboratories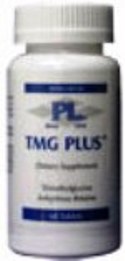 SKU: PRO945
MPN: 821
UPC: 3-51821-00821-9
TMG Plus information TMG Plus PDF
TMG Plus 60 tablets by Progressive labs.
Elevated Homocysteine... In a comparison with traditional risk factors, elevation of blood homocysteine was found to be a greater risk factor (20-40 fold) than elevated blood cholesterol (1.2-3.1 fold), high blood pressure (8-18 fold) or cigarette smoking (3.5 fold) in a selected group of patients with early-onset arteriosclerosis.
Homocysteine is formed in the body as a naturally synthesized byproduct of methionine metabolism. Like cholesterol, homocysteine performs a necessary function in the body. If the right cofactors are present it eventually converts to cysteine and other beneficial compounds such as adenosine triphosphate (ATP) and S-adenosylmethionine (SAM). If it cannot be converted, it enters the bloodstream where it promotes oxidation of lipids, causes platelets to stick together, enhances the binding of Lp(a) to fibrin and promotes free radical damage to the artery walls. Elevated homocysteine levels have been identified in 21% of patients with coronary artery disease, in 24% of patients with cerebrovascular disease and in 32% of patients with peripheral vascular disease.
In an autopsy study of almost 200 veterans, the group with the most severe heart disease had a mean cholesterol of 186. Two-thirds had no evidence of diabetes, high blood pressure or high cholesterol.
Ingredients:
Each 3 tablets contain:
Trimethylglycine 500 mg
B-6 37.5 mg
P5P 7.5 mg
Folic acid 450 mcg
B-12 375 mcg
Selenium 7.5 mcg
Supplement Facts
Serving Size: 1 tablet
Servings Per Container:
Amount Per Serving
% Daily Value
Vitamin B-6 (pyridoxine HCI)
37.5mg
1,875%
Vitamin B-6 (pyridoxine-5' phosphate)
7.5mg
375%
Folate (folic acid)
450mcg
112%
Vitamin B-12
375mcg
6,250%
Selenium (as seleno-L methionine)
7.5mcg
10%
Trimethylglycine (anhydrous betaine)
500mg
*
*Daily Value Not Established
Other Ingredients: calcium carbonate 90-A, croscarmellose sodium, microcel C, stearic acid, magnesium stearate, microcrystalline cellulose, food glaze.
Contains the nutrients needed for the breakdown of dangerous homocysteine.